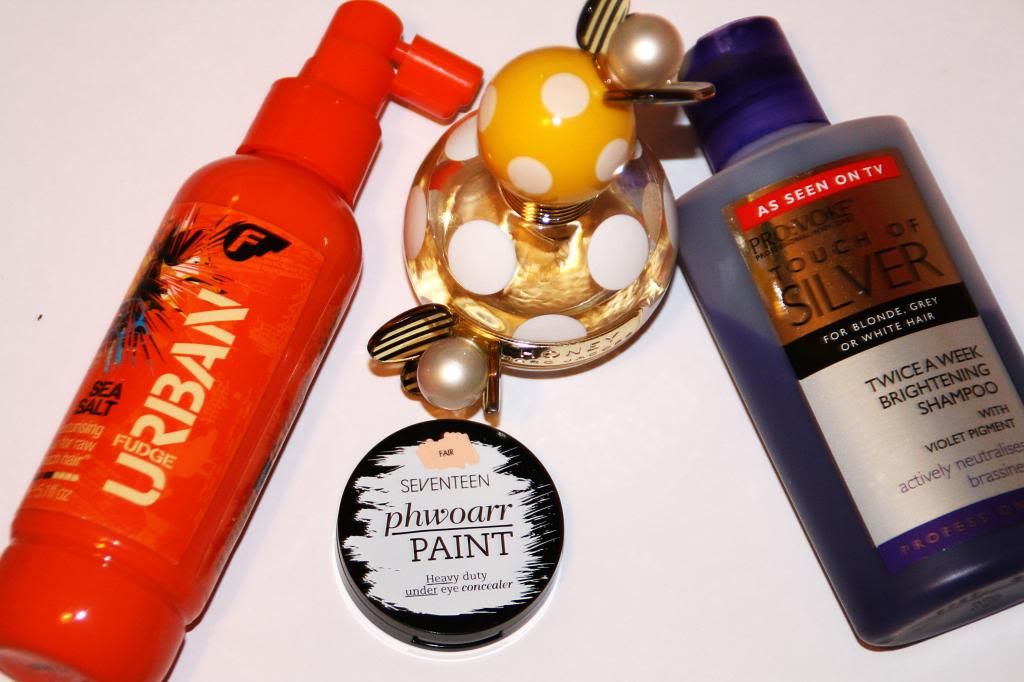 1) Fudge Urban Sea Salt Spray
It never occurred to me to get a salt spray for my hair. When I'm on a beach holiday the salt doesn't make my hair look good in any way - it tends to resemble a tangled up pile of seaweed! I was gifted this to try and I've been in love since the first application. To start off with it's got an amazing coconut scent that smells good enough to eat. It doesn't really do that much to your hair, but it adds just that little bit of texture, a touch of volume and encourages my hair to go into its natural wavy state without getting all tangled up. It's just a perfect little boost for second day hair.
2) Marc Jacobs Honey Perfume
This perfume was a late Christmas gift and I've shamelessly been wearing it almost every day. It's a wonderfully uplifting and happy scent that's not too overpowering. I won't waffle on about it too much as I've done a full review on it just a few days ago. You can find it
here
.
3) Seventeen Phwoarr Paint
This is a typical case of "the blogger made me buy it". After seeing this on loads of my favourite beauty blogs I nipped into my local Boots and got myself a pot of Phwoarr Paint and I'm so glad I did! This is the concealer I've been waiting for all my life. It's thick enough to seamlessly cover even stubborn blemishes and my serious dark circles, but doesn't crease or cake at all. And it's from the highstreet and a complete bargain! What's not to love?
4) Pro:Voke Touch of Silver Shampoo
As my hair is bleached I have to treat it with purple shampoo and conditioner every other wash to prevent it from going brassy. I've been on the hunt for the perfect one for ages and certainly didn't think I'd finally find it in this £2 bottle from a brand I'd never heard of. But not only does it have the perfect strength to get rid of any yellow or orange undertones but without causing any dodgy purple patches where my hair is a bit lighter. Most of all, it leaves my hair really healthy, smooth and soft. This is definitely a repurchase!