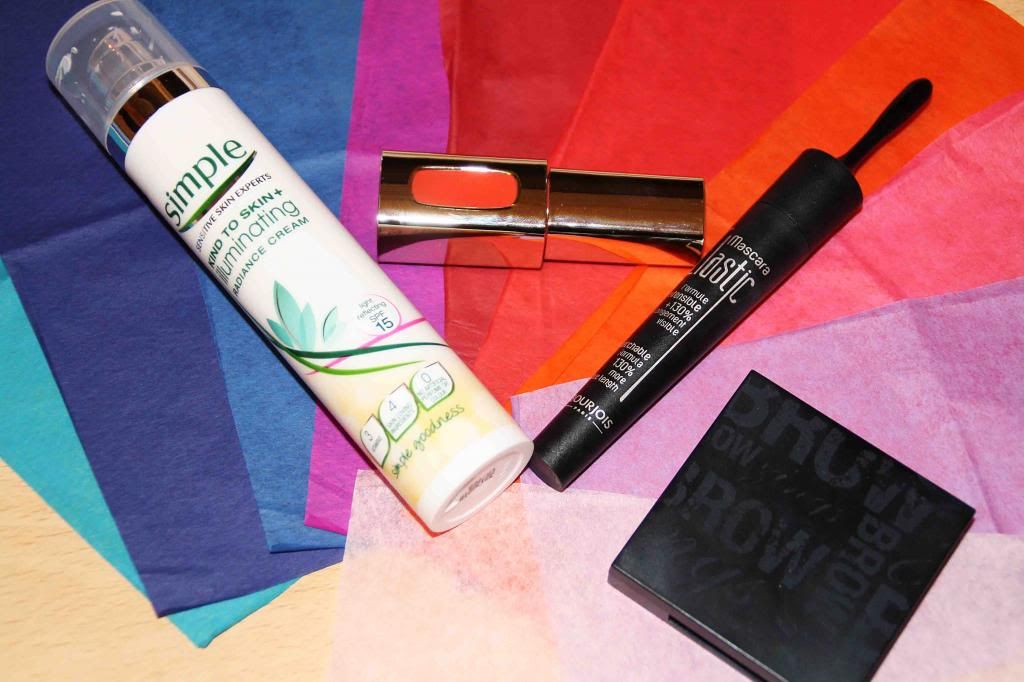 1) Simple Kind To Skin+ Illuminating Radiance Cream
I've literally just published a full review on this moisturiser
here
, so I don't want to go into too much detail, as I'd only be repeating myself. To sum things up, this is a great moisturiser which is light but nourishing and works great under make-up for the day time. It is rather on the shimmery side, but underneath foundation it gives the skin a gorgeous bit of lift and radiance.
2) L'Oreal L'Extraordinaire by Color Riche in Tangerine Sonate
I bought this less than a week ago, so it's a bit of a bold move to put it on my list of favourites already, but this lipstick/gloss/tint/balm hybrid is simply amazing. It's got the pigmentation of a lipstick and the shine of a gloss, but it's not at all sticky or tacky and feels light like a balm on the lips. The orange shade is surprisingly flattering and I've already had a lot of compliments while wearing it. It seems like this is a cult product for a very good reason.
3) Bourjois Elastic Mascara
I didn't have very high hopes for this mascara originally and to be honest I'm not even sure why I bought it anymore - but no matter, I'm glad I did! This does everything I look for in a mascara. It separates the lashes, it lengthens and the plastic wand makes sure that even the tiny little corner lashes get a nice even coating. It's not the greatest at giving volume, but I don't really care about that. What I'm looking for are long, fluttery lashes and that's exactly what I get from this mascara. It's not quite as good as my all-time favourite "They're Real!" mascara by Benefit, but it comes pretty darn close at a fraction of the price!
4) Benefit Browzings in Medium
You can probably see in the picture above that the packaging of this brow kit is pretty battered. In fact, it's the first brow product I've ever purchased, but at the time it was just too bold for me and got relegated in favour of the Suqqu eyebrow pencil and the HD Brows kit. I dug it out a few weeks ago just to mix things up a little and I've been really loving it again. I guess I kind of got used to filling in my brows and making them a bit bolder, so the high pigmentation is now a bonus rather than something that puts me off. The powder in this kit has slightly red undertones which I find work well in balancing out my yellow skin tone which can look a bit flat with ashy brow products.