I'm going to go all out here and say that BB creams are quite possibly one of the greatest beauty hypes of the last few years. I hate the weight of a heavy, full coverage foundation, but my skin isn't always that pixel perfect for me to bypass any base whatsoever. Tinted moisturisers tend to give too little coverage and are often also quite rich, but BB creams are the perfect middle ground.
It seems like everyone and their nan has brought out their version of a BB cream, which quite often doesn't have much in common with what the term was originally set out to mean (and don't even get me started on CCs and DDs and EEs and what-nots). But when Simple, which is probably my favourite affordable skincare brand, released a BB cream there was no way I wasn't going to give it a go.
There is only one shade to universally suit all skin tones and originally that had me a little worried. Then I opened the tube and thought there was absolutely no way that shade was going to suit my pale complexion - I thought the cream was a write-off before I'd even tried it. I started blending and my face went an unnatural orange colour. Then I blended some more - still orange. I blended some more and all of a sudden, like some sort of magic trick, the orange disappeared and I was left with skin that was slightly mattified but still had some of its natural luminosity peeking through. Evened out just enough to give that extra boost of confidence, but not so much that it would look unnatural.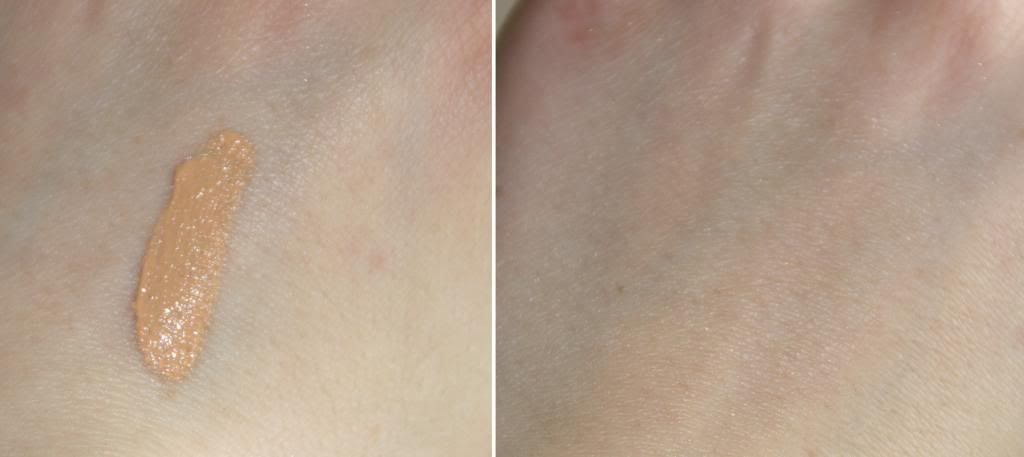 Simple Kind To Skin Perfecting BB Beauty Balm; Left: unblended / Right: Blended in
As for the texture it's a lot less thick than all the other BBs I've tried before, which personally I think is a bonus. It might sound a bit vain, but I like to have a very light base on when I go to the gym or for a run, but it's imperative that it doesn't clog my pores when I get sweaty and this fits the bill absolutely perfectly. But also for days where I feel like my skin needs just a little pick-me-up instead of a lot of coverage, this does a great job. You can see me actually wearing this BB cream in
this Face Of The Day post
.
So in the end, what I thought would be a write-off turned out to be yet another great product. I still feel like adding two extra shades - one lighter and one darker - would be a good idea, just so that those of us with particularly light or very dark skin don't have to blend quite as much. But overall, this gets a big thumbs up from me!
Simple Kind To Skin Perfecting BB Beauty Balm retails at £8.99