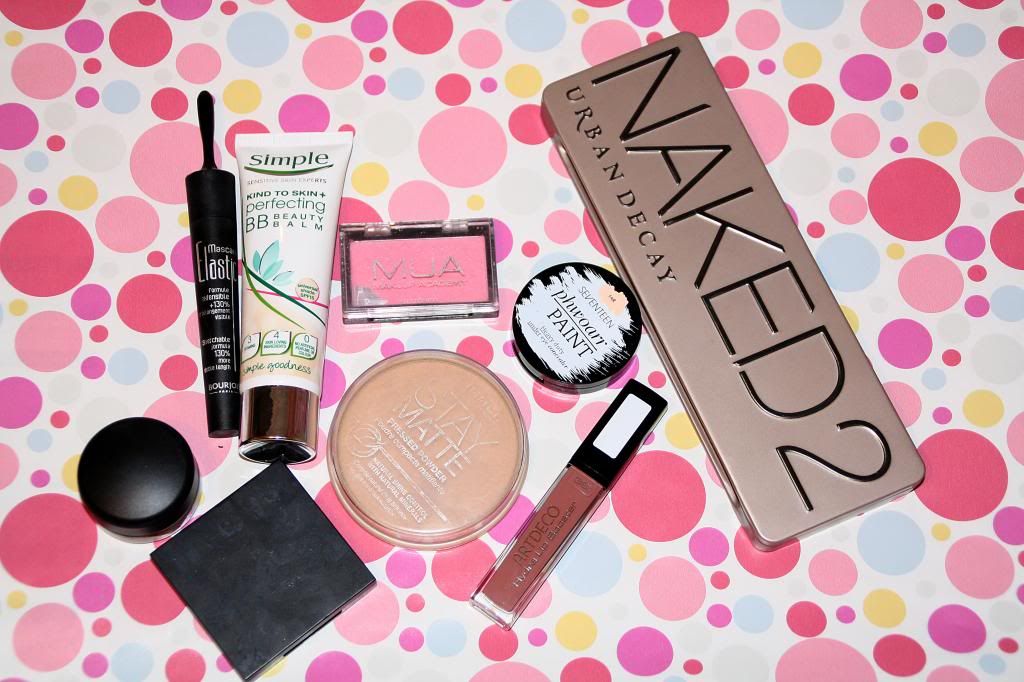 This was originally meant to be a light, natural spring type FOTD, but then I dipped my fingers back into my Naked 2 palette (which I haven't used in over a month) and couldn't help but go overboard just a tiny little bit. Whoops! I tried balancing things up with a very light, nude and glossy lip and also used a very light base, so you gotta give me credit for at least trying!
FACE/BASE
I started out with a nice and light base this time around, as I didn't want too much coverage. The
Simple Kind To Skin Perfecting Beauty Balm
looks quite scarily orange as it comes out of the tube, but fortunately it blends out rather nicely and gives a very natural, slightly perfected finish. I then applied my old faithfuls, the
Seventeen Phwoarr Paint
and the
Rimmel Stay Matte Powder
- I don't think I'll ever buy another powder or a different concealer! On my cheeks I applied the
MUA Powder Blush in Shade 1
. It's a very bright, blue based candy pink which I find looks very natural on my cool skin tone.
EYES
For my brows I switched it up from my usual HD Brows palette and dug out an old friend - the
Benefit Brow Zings in Medium
. The powder in this due has hardly been touched as I was always a little scared of how pigmented it is, but these days I find it to be a perfect match for my brows!
I used my trusted
MAC Paint Pot in Painterly
as a primer all over the lid and then went a little crazy with my
Urban Decay Naked 2 palette
. Using a big fluffy brush I applied Suspect all over the lid, then buffed in Snakebite into the outer corners and the crease using a MAC 217. Using another, clean 217 I blended out the edges before lining the upper lash line with Blackout using a small angled brush. Finally, I dipped my ring finger in Bootycall and patted a small highlight into the inner corner and under the brow bone of each eye.
To top it off I applied one coat of the
Bourjois Elastic Mascara
- though looking back a second coat probably wouldn't have hurt.
LIPS
When I finally got to the lips I realised that I'd probably used a touch too much eye shadow to call this a natural make-up look, so to take the edge off a little I used a nude, creamy lipgloss. I received the
Artdeco Hydro Lip Booster in Translucent Rosewood
in a beauty box and I really like it for the colour and its creamy, non-sticky formula.