Happy Easter, everyone! It's Sunday and that means it's time for another lifestyle related post. This time I thought I'd share with you a recipe for a tasty green soup which is healthy, filling, easy to make and delicious! I got the original recipe from
Popsugar Fitness
, but I adapted it a little bit to suit my tastes and needs and I'm very pleased with the result and will definitely be making it again.
(NB: A saucepan may or may not have been accidentally set on fire during the creation of this post. I guess I'll never be one of those swanky, sophisticated food bloggers, oops!)
For two portions you will need:
Half an onion
Half a small, green chilli (I used birdseye)
A drop of olive oil
About 5-6 leaves of chard or spring greens
A good handful of spinach
500ml vegetable stock
1 tsp smooth peanut butter
1 tbsp low fat cream cheese
Start by finely dicing the onion and the green chilli. Remove the pith and the seeds from the chilli if you don't want too much heat, or use a whole chilli if you want it a little hotter!
Saute the chilli and onion in the olive oil in a saucepan over high heat until the onion becomes translucent. Keep stirring to prevent it from sticking.
In the meantime, start chopping your chard or spring greens, depending on which you're using. You want to separate the crunchy white stems from the leafy green bits. Add the white bits to the pan with the onion and the chilli and saute for another 3-5 minutes.
Add the green bits to the pan along with the spinach. Heat, while stirring until all the spinach has wilted, then turn the heat down to medium.
Add the vegetable stock to the pan, cover and let it simmer for about 5-10 minutes.
Turn the heat down to low and add the cream cheese and peanut butter. Stir well to dissolve any lumps.
Transfer about half of the soup into a blender and whizz until smooth. Alternatively, if you have a hand blender you can just puree it right there and then in the saucepan.
Return to the pan and turn the heat up one last time until the soup starts bubbling away. Adjust seasoning if you need to, though I find that the peanut butter, veg stock and cream cheese make it salty enough, while you get a little heat from the chilli.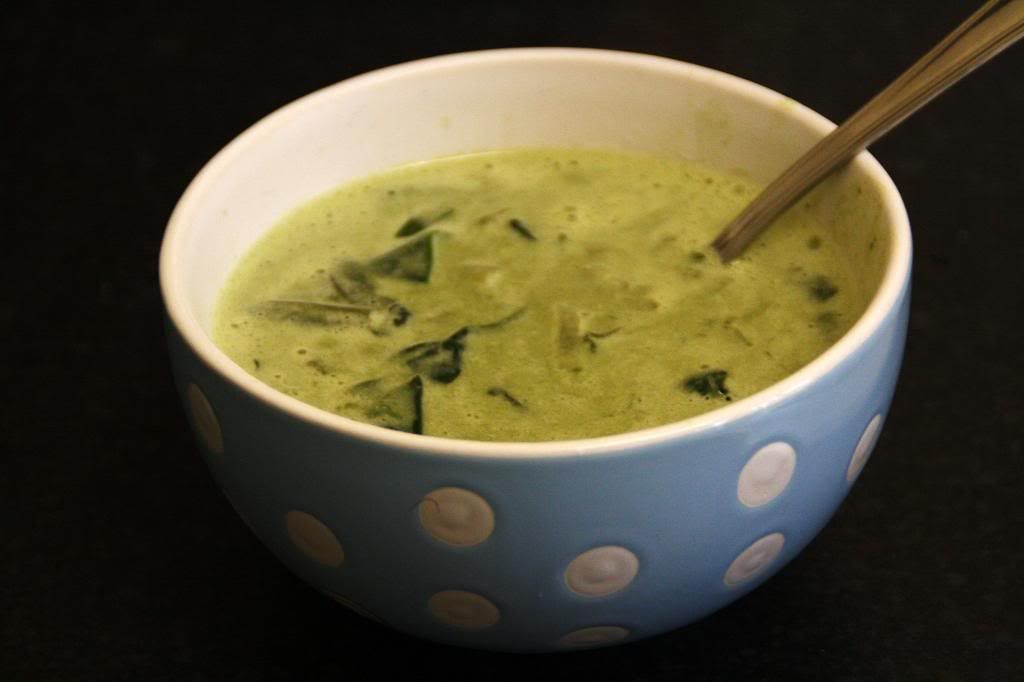 And tuck in! Serve with some bread if you're really hungry or just slurp on its own. It tastes rich, indulgent and creamy and definitely not like a healthy recipe.
I wasn't too sure about the peanut butter at first, but it turns out that it goes beautifully with the green vegetables adding an almost meaty taste to a vegetarian dish.
Let me know in the comments below if you decide to give this recipe a go!