Me and baking have an on/off relationship. I still remember all of my first attempts at baking and they all turned out horrendous. I even managed to mess up a premade banoffee pie that I basically just had to assemble! These days, things turn out a lot better, but it's still a rare occurrence that I bake something, as I tend to make the biggest mess in the kitchen whenever I give it a go. However, this cheesecake was worth all of the flour behind the counters and the spilt milk and broken eggs. When my friend said she wanted to take this cake to Vegas and marry it I knew I was on to a winner. The recipe was taken from the June issue of BBC Easy Cook magazine. If you don't like blueberries, feel free to substitute other fruit such as strawberries, raspberries, gooseberries or even pineapple!
For 10-14 bars (depending on the size of your cake tin) you will need:
300g digestives
140g melted butter
275g caster sugar
100g blueberries (or other fruit of your choice)
1tsp cornflour
900g full-fat soft cheese
4 tbsp plain flour
2 tsp vanilla extract
3 large eggs
200ml sour cream
Throw the biscuits into a food processor until they turn into fine crumbs, then pour in the melted butter and whizz until it becomes a sticky mixture. Alternatively, if you don't have a food processor, you can bash the biscuits in a freezer bag with a rolling pin and mix with the butter by hand in a bowl.
Line a deep baking tray with parchment and then spread the biscuit mixture over to form an even base. Press it down with a spatula or the back of a spoon and try to get it as even as you can. I tore off some of the baking paper in order to be able to take better pictures, but you may want to leave some overhang, as it will make it a lot easier to lift the cake out of the tray. Bake for 10 minutes at 180C fan/ 200C conventional/ gas 6.
Meanwhile, we can crack on with our blueberry sauce. Mix the cornflour with a little bit of water, then add to a saucepan with the berries and 25g of the sugar.
Heat up and let the mixture bubble while stirring constantly until the berries crack open and release their juice and the sauce becomes thick and syrupy. Then remove from the heat.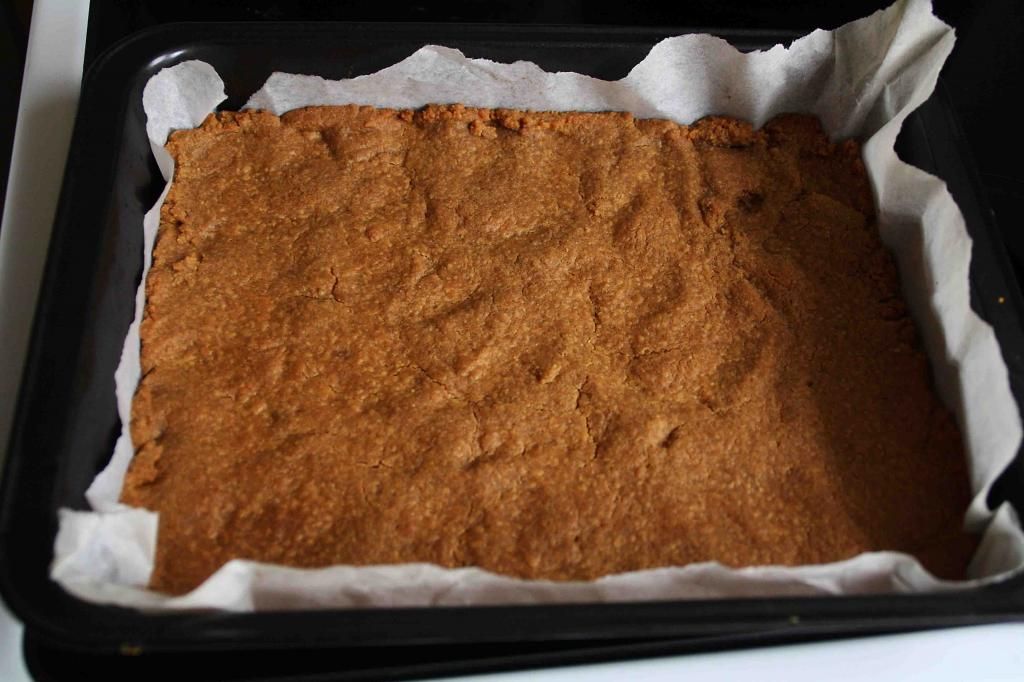 By now your base should be ready, so lift out the golden crispy deliciousness. Let the base and the blueberry sauce cool off completely before you continue.
Now we're gonna get started on the main event. Look at all that cheeeeeeeese....
Get a big bowl and whisk the soft cheese until it becomes smooth. Add the sugar and whisk some more. Finally, add the flour, vanilla, eggs and sour cream and whisk again until you're left with a smooth mixture like the one in the picture above.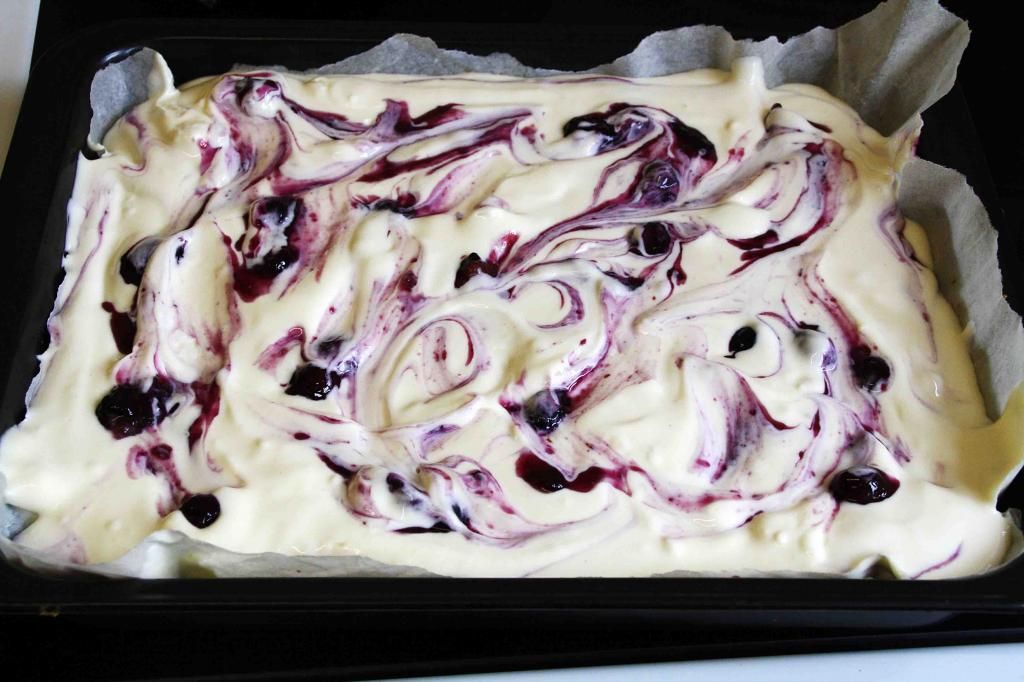 Pour half the cheesecake mixture over the biscuit base, then dot half of the blueberry sauce all over. Top with the remaining mixture and then add some more blobs of blueberry sauce. Use the tip of a spoon or a knife to create little swirly patterns. Then get this baby in the oven and bake for 10 minutes at fan 180C/ conventional 200C/ gas 6. After that, turn the heat down to fan 90C/ conventional 110C/ gas 1/4 and bake for another 30 minutes. Then turn off the oven and leave the cake to rest in the warm oven for an hour. Lift it out and wait until it's cool enough to put in the fridge, where it should be left for at least 3 hours or ideally overnight - if you can wait that long!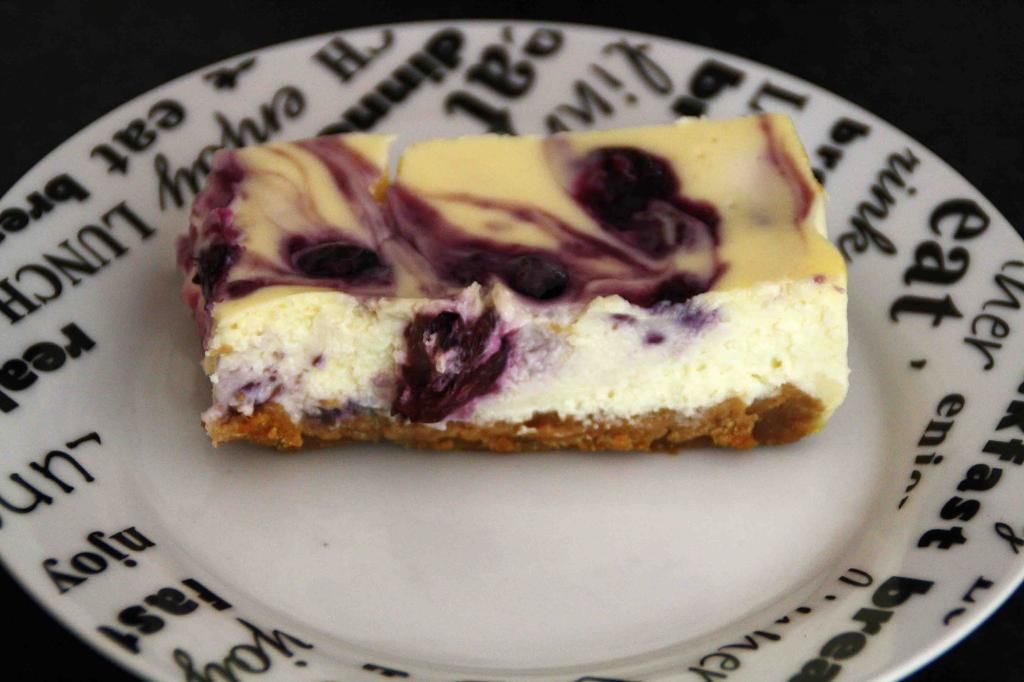 Slice into bars and serve! Enjoy the ooey, gooey creamy deliciousness. Granted, this might not be the healthiest of recipes, but this stuff is seriously worth it. And what would life be without a little naughtiness from time to time, eh?
Let me know in the comments below if you decide to give this recipe a go!