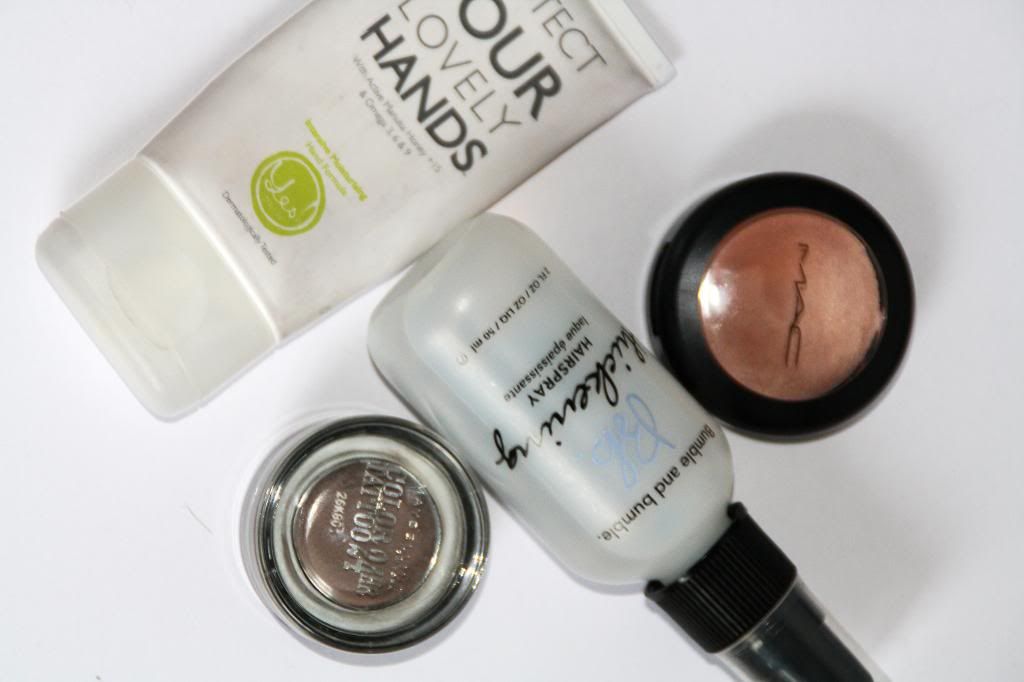 There's not much to say about this hand cream that I haven't said before (
check out my full review of this one here
), but it's quite possibly the best hand cream I've ever used. No faffing about with greasy, slimy hands that won't let you touch anything without leaving a snail trail. This sinks in pretty much instantly and protects my hands from the harsh environment. Every winter my hands would get so dry that the skin would crack at the knuckles - now that's a thing of the past. The tube in the picture has been in my handbag for a while, so it's gone a bit manky and it's starting to run low as well, but I can definitely see myself repurchasing this.
2) MAC Cream Colour Base in Hush
I've had this product for ages and it's only recently, when rummaging through my stash, that I rediscovered it. I've not put it down ever since! It's got quite a hard, waxy cream texture, but I find that that makes it perfect for placing a strategic highlight on top of the cheekbones as well as above the lip on the cupid's bow. It works best when blended in with fingers, as I find that brushes struggle to pick up the pigment. I actually reviewed this product on my blog in May two years ago, back when I lived in Germany for a bit and wrote my posts in two languages!
Click here
for a blast from the past.
3) Bumble and Bumble Thickening Spray
This mini thickening spray came as a freebie with a magazine sometime last autumn I think. The first time I used it I was a tad overzealous and as a result my hair went literally horizontal after blow drying. There's volume and there's too much volume. After that incident I've banished the spray to the back of my unwanted drawer, but something made me dig it out again at the start of the month and give it another go. Turns out, if you're not overgenerous with your application, this is actually a brilliant product that gives me just that little bit of lift to my hair without being at all sticky or drying on the hair.
4) Maybelline Color Tattoo in Permanent Taupe
Right before Christmas there was a 3 for 2 deal on all Rimmel products on at Boots, and as I was in the market for a new foundation and mascara anyway, I popped this into my basket as well, seeing as I'd heard so many good things about the Color Tattoos from various blogs. Turns out, I can completely understand the hype. The formula is simply brilliant. Nice and creamy and blendable to begin with, it eventually settles into a powder finish that does not budge all day. Permanent Taupe is a little less pigmented and more muted compared to the other shades on offer, but it works amazing with a winged eye liner. I can't wait to get my hands on some of the other colours, including On and On Bronze!