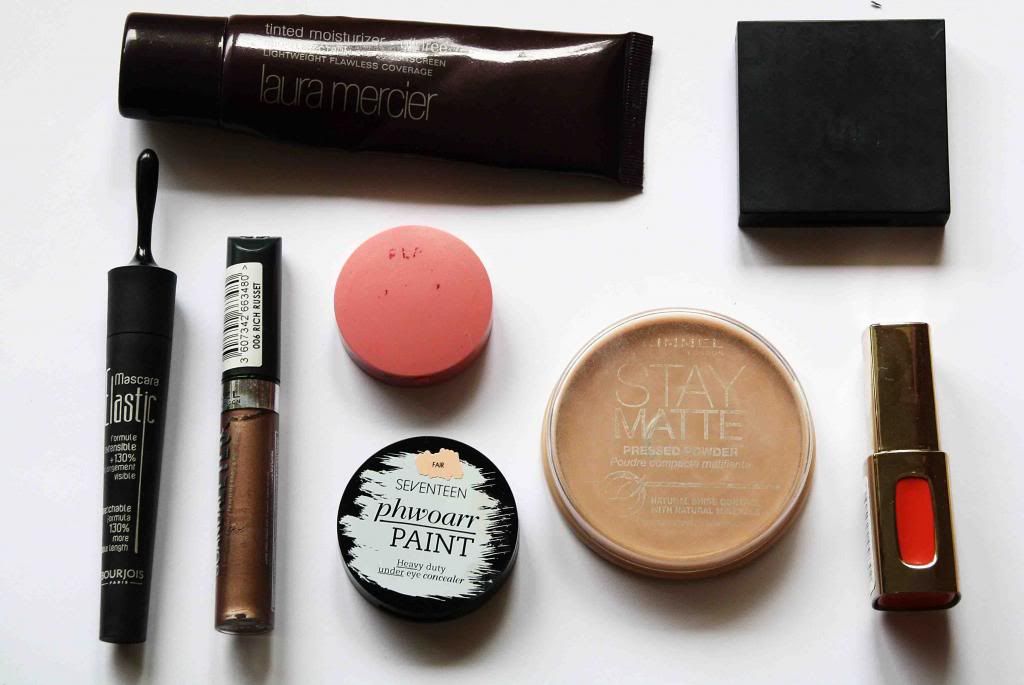 I used to hardly ever wear lipstick, especially any loud, bright shades. They're just such high maintenance and not only do I end up with lipstick marks
everywhere
, the constant reapplication needed to keep bright lipstick looking good is just too much of a faff. However, my recent purchase of the bright orange L'Oreal L'Extraordinaire has changed everything (at least for now). I've never had so many compliments on my make-up as when I wear this lipstick. So I thought, sod it, if I have to deal with orange marks on my straws and more frequent trips to the bathroom to reapply, that's just a sacrifice I'm going to have to make. To balance out the bright lips I've kept it a bit more plain on the eyes with another new purchase, the much hyped up Rimmel Scandaleyes Shadow Paint in Rich Russet.
FACE/BASE
As you can see by the severely squished tube of
Laura Mercier oil-free Tinted Moisturizer
, there really wasn't much left when I did this look and by the time I'm typing up this post, it's sadly served its purpose and there's not another drop that I can squeeze out. For concealer I stuck with my trusted
Seventeen phwoarr Paint
- I don't think I'll ever buy any other concealer again (yes, that's a big, big statement right there). For cheeks I stippled on some
Bourjois Cream Blush in 03 Rose Tendre
- for a drugstore formula, this blush is pretty much unbeatable, even though the packaging does get a bit manky with time and almost all the writing wore off on mine already. For setting, I stuck with another old faithful, the
Rimmel Stay Matte
powder, dusted just along the T-Zone.
EYES
As my lips were pretty bright with this look, I kept the eye make-up a bit more simple with a slick of the
Rimmel Scandaleyes Shadow Paint in Rich Russet
. I just applied it straight to the lids with the wand, then waited for it to dry for a few seconds and eventually just smudged out the edges with my finger. You can use a brush for that if you want, but I find that fingers work just as well, if not better, as they don't absorb any product. While the Shadow Paint sets, I topped up my brows a little with my recent re-discovery, the
Benefit Brow Zings in Medium
. To top it all off, I applied one coat of the
Bourjois Elastic Mascara
on top and bottom lashes. I really love this mascara, but sadly it's starting to run a little low now, so it's going to be time to move on to a different one, soon.
LIPS
On to the star of the show, the
L'Oreal L'Extraordinaire by Color Riche in Tangerine Sonate
. The main reason I don't mind faffing about with topping up my lip colour all the time is because this gloss/balm/lipstick hybrid does it all in one go for you. One slick and you've got colour and shine right on your lips - no need for two or three different products. At the same time it somehow manages not to be sticky at all, so no awkward hair in mouth situations there.