Every time I think I'm over beauty boxes, something new pops up that gets me excited about them all over again. Last year, it was Love Me Beauty's "choose your favourite from three menus" concept, but by now I've gotten a little bit bored of the products they have on offer. Just as I cancelled my subscription Memebox pops up with an entirely new idea. Not only are all boxes themed and you simply pick which one you like, without ever having to start a re-occuring subscription, the main selling point is the fact that you get nothing but Korean beauty products. I've been a fan of Asian beauty for a very long time, as it caters to a lot of my beauty needs: pale skin, hooded lids... and don't even get me started on the packaging. Sadly, I wouldn't know where to start most of the time, as there's no chance of me understanding anything on the packaging. In comes Memebox, offering not only edited down sets of Korean products to try, but also a very useful leaflet explaining exactly what everything is and what you're meant to do with it, as well as the chance to buy any products that you like from their shop. How could I say no to that? The box I've got to show you today is box #23, themed "Girl's Night Out".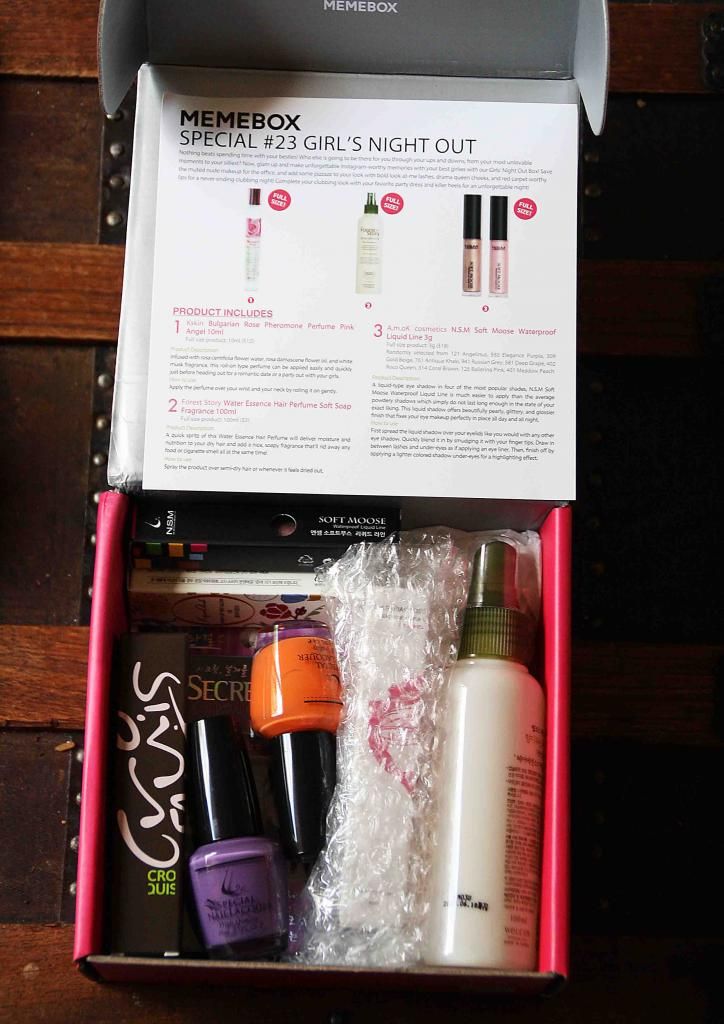 It came packed to the very brim with make-up and beauty products and took exactly two weeks from placing the order to arrive - not bad, considering it had to travel halfway around the world! I normally do a value breakdown with my beauty box reviews, but I just don't feel that would be very appropriate in this case, as you'd be hard pressed to find any of these items here in the UK. Instead, I'll just give you my first impressions about each item.
1) Kskin | Bulgarian Rose Pheromone Perfume Pink Angel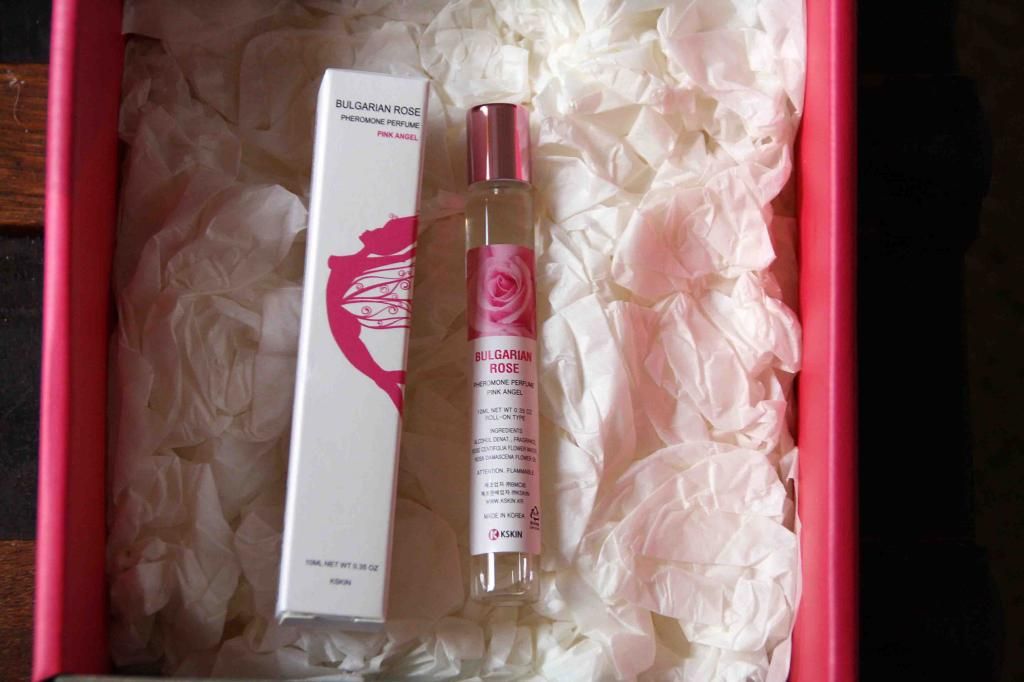 I usually hate receiving perfumes in beauty boxes, but seeing as this one's a full sized rollerball rather than a dinky little counter sample, I'm happy with the product I received. I got incredibly excited when I saw that it was rose based, but I'm still on the fence about whether I like it or not. There is an initially overwhelming smell of alcohol, but once that's evaporated you're left with a faint, powdery hint of rose. This is going straight in my handbag for perfume application on the go.
2) Forest Story | Water Essence Hair Perfume Soft Soap Fragrance
My eyes lit up a little bit when I read the description of this product. A hair spray that is designed to eliminate all odours (like food or cigarette smoke) from your hair while adding softness and moisture. What a brilliant idea! I think it's safe to say that we all have those days where an extra hour in bed sounds a lot more appealing than getting up, washing and styling our hair and sometimes dry shampoo doesn't quite cut it. I've spritzed a bit of my regular perfume onto my hair before, but I can't imagine all the alcohol in it to be particularly good for my hair. Sadly, the scent of this is insanely overwhelming. Soap fragrance, yes, definitely, but soft it is not - more like a soapy sledgehammer to the face. As my hair is freshly washed I can't comment on its softening properties just yet, but I will try to give it another go on my next bad hair day.
3) A.m.oK cosmetics | N.S.M Soft Moose Waterproof Liquid Line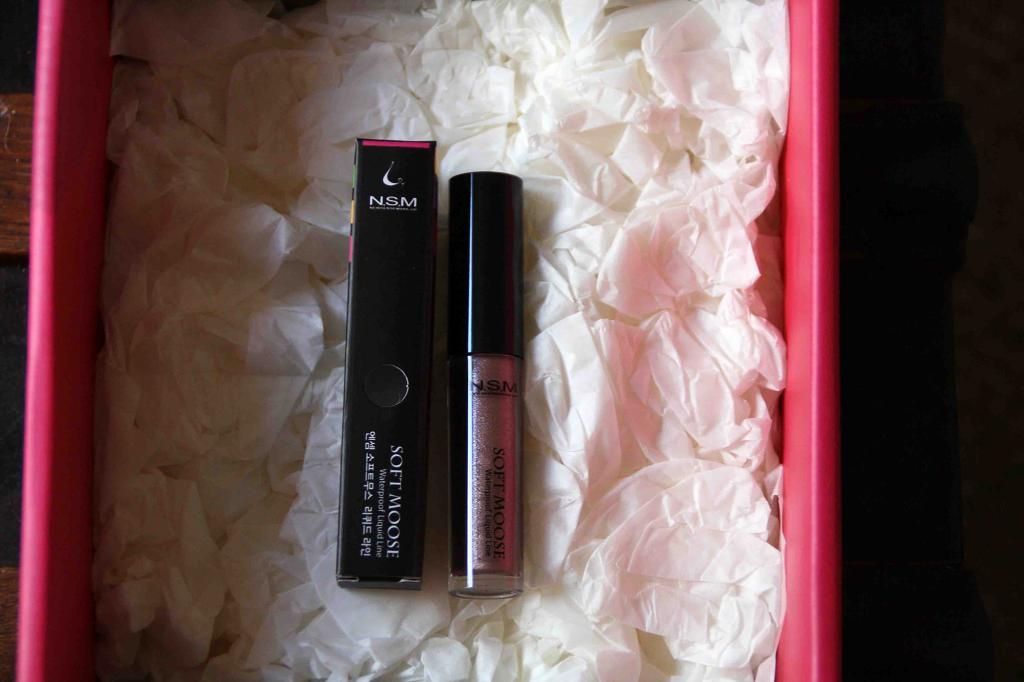 I think something may have gotten a little lost in translation here... Soft Moose? Surely they meant Mousse... and "Three step cross eyes"?? I really hope I don't get cross eyed from using this, haha! Anyway, the product itself is a soft cream inside a tube with a brush applicator. The brush is meant to make it easy to use it as an eye shadow blended out all over the lid, as well as an eye liner focused on the lash line, but I feel that it is too wide to perform well as a liner. This came in a variety of shades and I feel like I've really lucked out with mine (550 Elegance Purple - see swatches below). It's a gorgeous shimmery bronze with soft purple undertones, which applies incredibly pigmented. From my swatch it seems a bit too creamy to be waterproof and I think I might need to wear a good primer underneath or set it with a powder shadow perhaps, but I really can't wait to give this a go!
4) Secret-Stargirl | S-Style 2set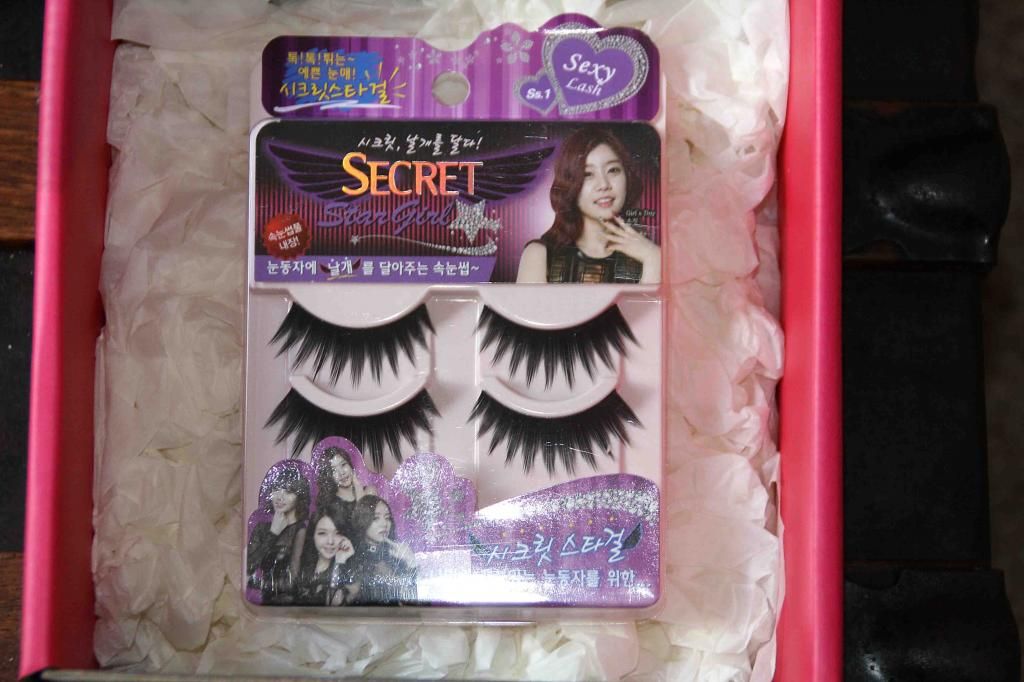 This is another product that came in lots of different variation and the one I got was 01 Sexy Eye. It's safe to say that these lashes are completely out of my comfort zone and not something I would ever pick up in a store. I think they're a tad think and long and glossy, so are going to look very obviously fake on the eye, but nevertheless I'm willing to give them a go next time I'm on a big night out or something.
5) Croquis | Dual Concealer
This is a double ended product, with dark circle concealer on one end and blemish concealer on the other end. The dark circle side is lighter and peachier in tone and comes with a brush applicator as opposed to the doefoot applicator that comes with the blemish concealer side. Just in case you get as confused as I did, it also has a picture of an eye and a picture of dots to make it clear which side is for which purpose. Upon first inspection I really, really like this product. It applies very creamy and actually quite runny at first, but once you start blending away, you can see that there's a very decent amount of pigmentation in there. I can imagine it being a bit annoying to get something like this if you have a dark skin tone, but for my pale skin this is a perfect match!
6) A.m.oK cosmetics | N.S.M Special Nail Lacquer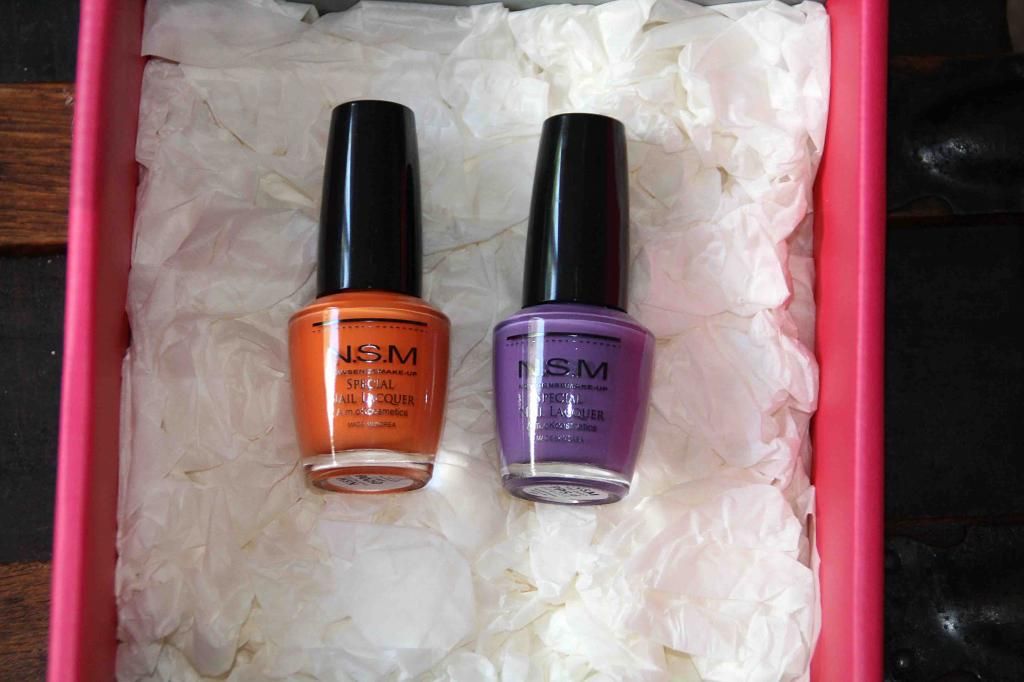 Imagine my excitement when I saw that they included not one but two nail polishes in this box! The shades I got are OR206 Juicy Fresh and PP516 Violet Tulip and once more I feel like I've really lucked out with the colours, as they're both shades I'll happily wear. In contrast, I've seen some pretty horrendous glitter shades in other boxes while writing up this review. These two actually make me think Halloween nails, but that's not necessarily a bad thing.
7) Kepaclub | Maxi Lip Tint Glow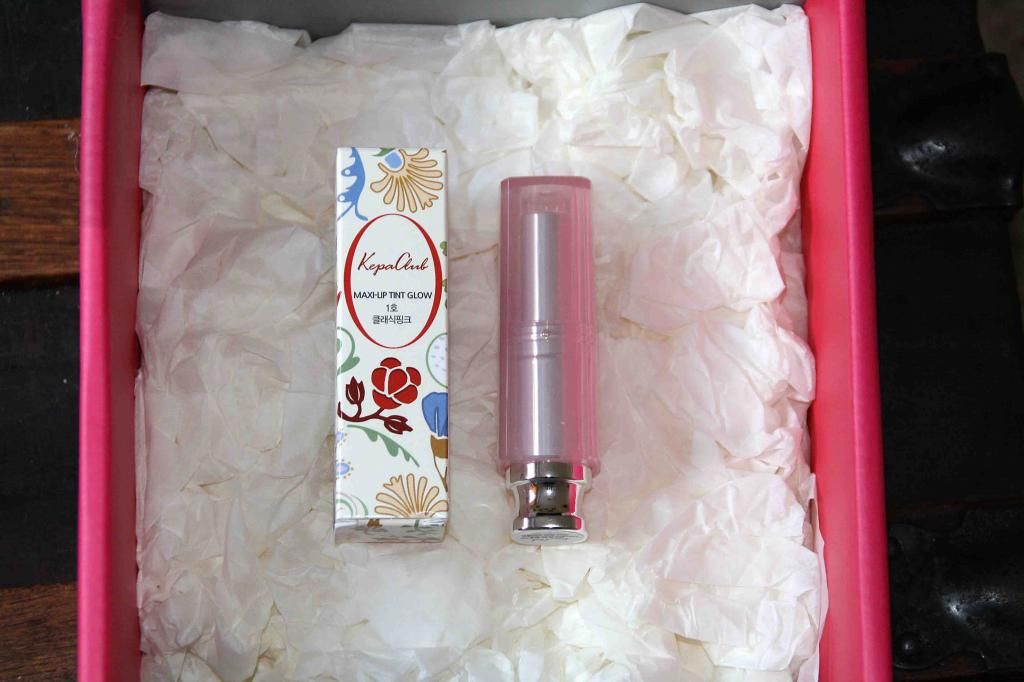 This lipstick/balm hybrid has got to be my favourite item from the box. The packaging is very reminiscent of Dior lipsticks, albeit with a much cheaper execution. The colour, however, is absolutely stunning. I can't make out which one of the three colour choices I received, but I did noticed that mine seems to be a lot more pigmented than other people's - or perhaps it just shows up better on my light skin? I just realised that I forgot to take a picture of the lipstick bullet (#bloggerfail), but you can see the colour in the swatch image below. It's a beautiful rosy pink and exactly the colour which springs to my mind when I think about Korean make-up. I don't ever want to take it off again.
And as promised, here are all make-up products swatched up.
L-R: N.S.M Soft Moose Waterproof Liquid Line in 550 Elegance Purple // Dual Concealer in 02 // Maxi Lip Tint Glow (shade unknown)



After opening my box I browsed a few other reviews online and was quite stunned to find that they were overwhelmingly negative. While I'm really not a fan of the soapy hair spray scent, I'm really happy with all the other products and I can genuinely see myself using all of them. I think in part I was really lucky with the colours I received, as they're all extremely pretty and very wearable.

I'm quite impressed that there were eight full sized products in my box and they're all exciting brands that I've never heard of. I also really like the fact that I don't have to commit to a subscription, but I can buy as many (or as few) boxes as and when I like. In fact, I'm already rummaging for my credit card to order my next one...