Welcome to the New Year everyone. I hope you had a great New Year's Eve and had a good time, even if like me you didn't do anything fancy.
For the first post this year I have a product I've been meaning to review for a while now, but haven't got round to till now: The Spa Organics Gentle Cucumber Cleanser
*
.
Spa Organics are a new cosmetics brand delivering (you guessed it) natural and organic beauty products at affordable prices. Their range isn't particularly big, but all products are well thought out and you can see the time and effort that has gone into creating each and every one of them.
I wouldn't be saying that just for the sake of it - the thing that made me take notice was that along with the cleanser I received a comprehensive list of ingredients for all their products, including an explanation what exactly it was doing in there. I don't know what half the ingredients in my beauty products are, not to mention what they're actually supposed to do for me, so this was truly a breath of fresh air. There isn't a single chemical nasty in their products, a lot of ingredients are locally sourced and the products aren't tested on animals either. So far, a big thumbs up.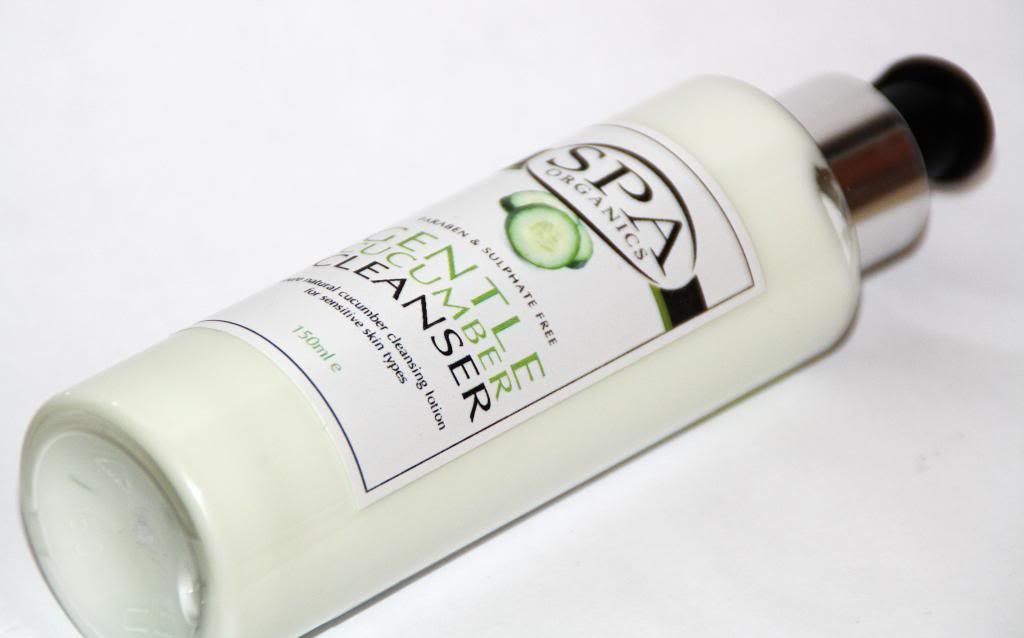 The Gentle Cucumber Cleanser comes in a 150ml plastic pump bottle. It dispenses easily and the pump has a well functioning locking system which means it travels well without any spillages. I use about one pump in the mornings and one and a half in the evenings, when my face is grimy and dirty from make-up and, well, all that other mucky stuff you pick up during the course of the day.
The packaging may not be particularly fancy, but it's a new company we're talking about, after all, and it's the inside that counts. (I've had my fair share of brightly coloured, elaborately packaged products with lots of witty slogans printed all over them that turned out to be rubbish)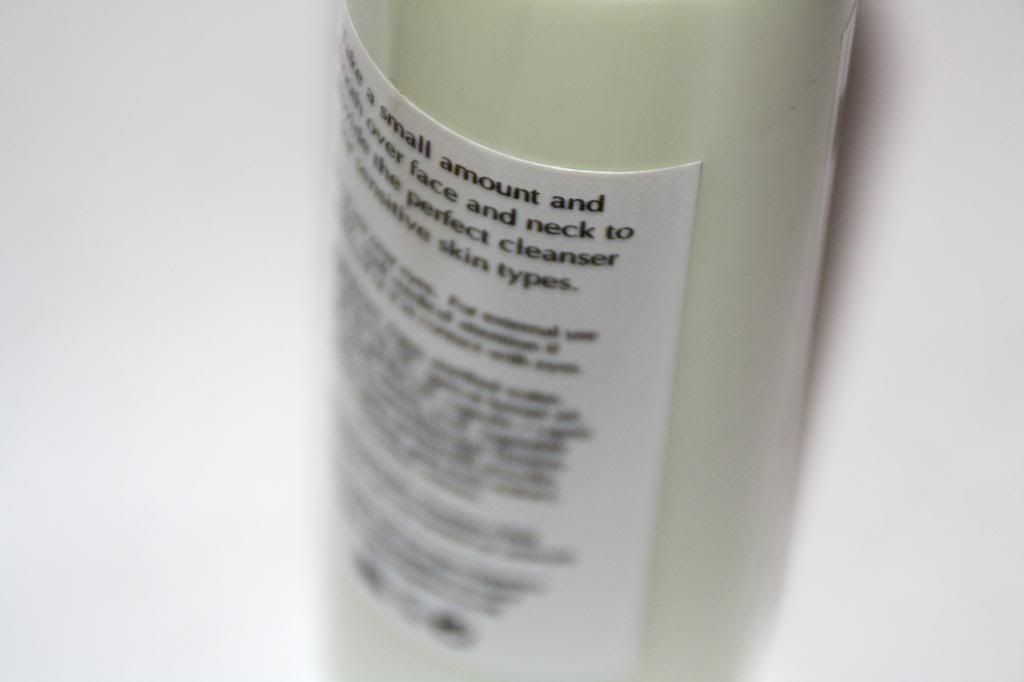 The thing that surprised me the most is just how creamy this cleanser is. I haven't tried an awful lot of all-natural cosmetics, but my experience with them so far was that the texture is somehow lacking without the use of silicones, making for products that are very difficult to spread and apply. Not so with this - it feels thick, smooth and luxurious on the skin, though it's creamy richness means you have to be extra thorough when rinsing it off.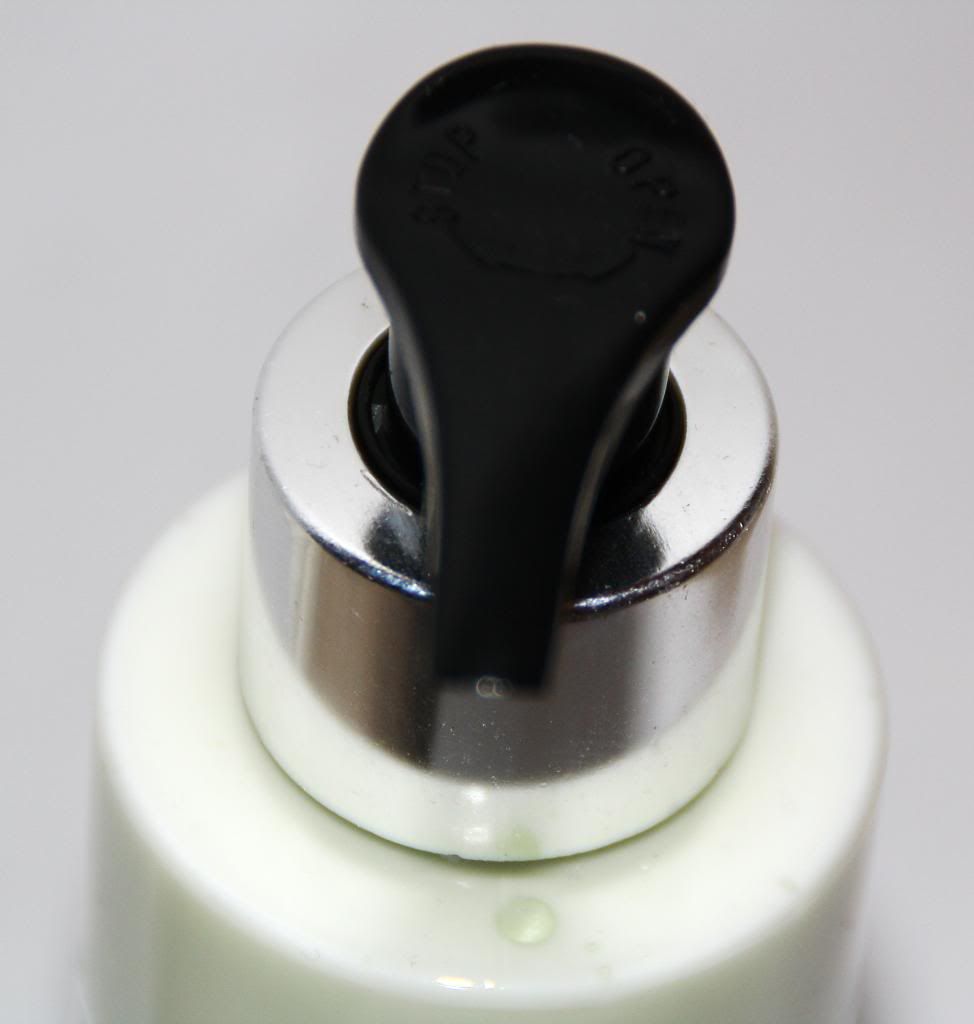 I feel that the scent is definitely worth mentioning, so take note if you have a sensitive nose, please. This smells. Not in a bad way, but it has a very intense cucumber scent. It doesn't linger and disappears as soon as you rinse off the cleanser. Personally, it doesn't bother me - I associate the scent of cucumbers with freshness and cleanliness which fits in perfectly with the whole idea of a cleanser. Yet if strong scents bother you or if you have an aversion to cucumbers, this might be a point worth considering.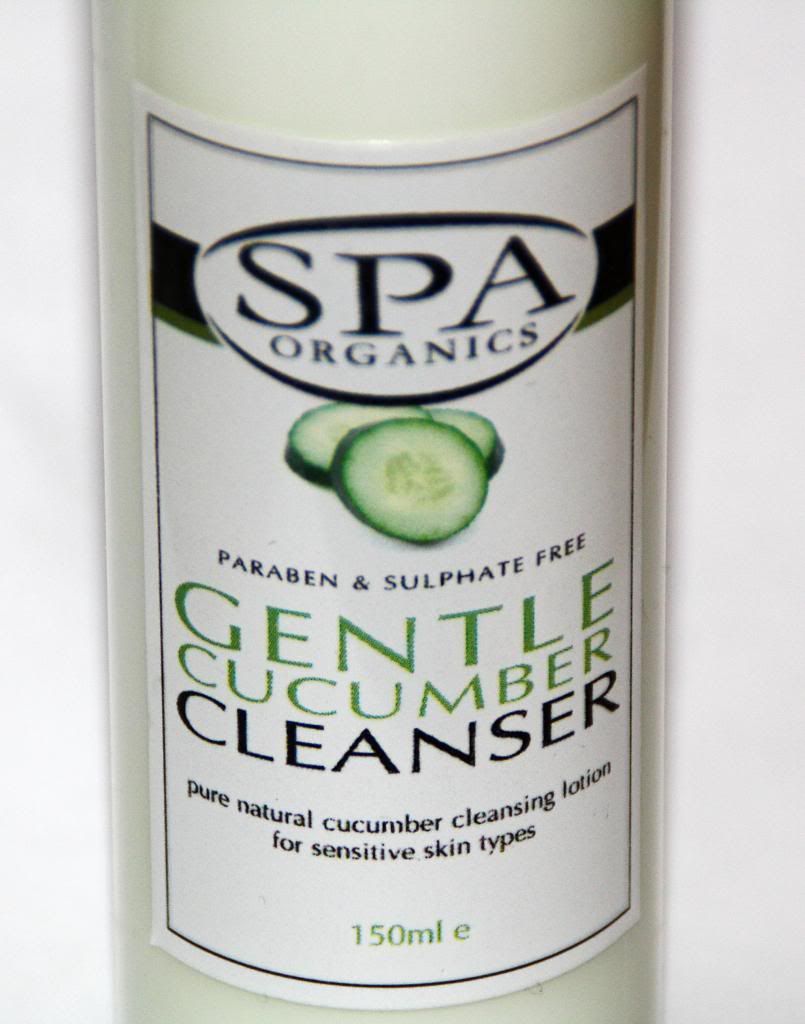 As for the skin benefits I would agree that this is particularly suited to sensitive skin. It was gentle enough and did not cause any of that pulling tight feeling that some harsher cleansers leave on your face. It's not meant to be used on the eye area, but if a little bit gets in through too vigorous scrubbing (I am often guilty of that) it won't leave your eyes red and sore.
At first, the cleanser wasn't quite thorough enough for me in the evenings and I'd still find a bit of dirt and make-up on my cotton pad after toning, but when I increased the amount I used from one pump to one and a half that seemed to solve the problem. After that, the cleanser served me well and did what it was meant to do in a gentle, skin friendly manner. The beautiful texture made me perk up and often stopped me from rubbing my face like a dirty old rag and to treat it kindly instead.
The cleanser retails at £10.95 for 150ml which is more than justified in my honest opinion. You'd be hard pressed to find natural, organic products at such a price and I find you get good value for your money.
You can pick up this as well as other products in the range on the
Spa Organics website
, which also includes the comprehensive list of ingredients used that I talked about earlier.
All in all, a great find for those who want to venture into organic skincare without having to break the bank or compromising on quality.
*PR sample sent for consideration