I never used to be a massive fan of Lush cosmetics, but the last year I've grown more and more fond of their products, particularly their bath goodies. Yes, they're a tad on the expensive side, but they smell amazing and are nice for a one off treat from time to time.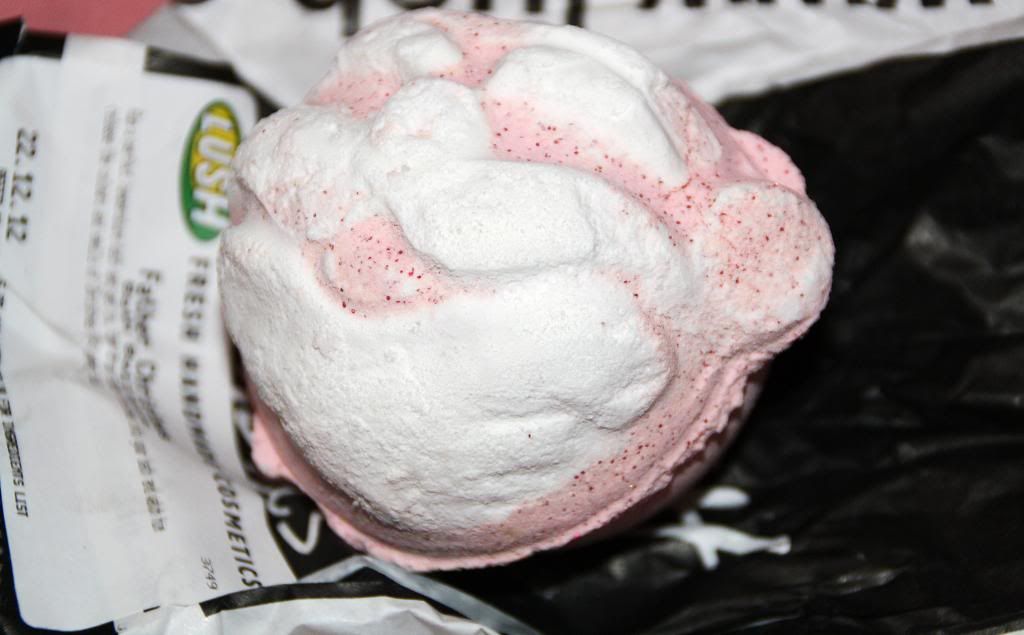 With all the seasonal ranges in particular I feel like I need to get in before they're gone or else I'm missing out. There were a few items I was eyeing up in the festive season last time around, but before I managed to get my bottom into gear they were already gone and I was gutted!
I wasn't going to get a Father Christmas, but he looked so happy in the shop he somehow magically made it into my basket anyway!
With bath ballistics I tend to just plonk the whole thing into my tub, but if you don't mind getting your hands a little messy you could easily get about two or three baths out of him.
Once in the water, he instantly starts fizzing away and dissolving, leaving behind a foamy pink trail.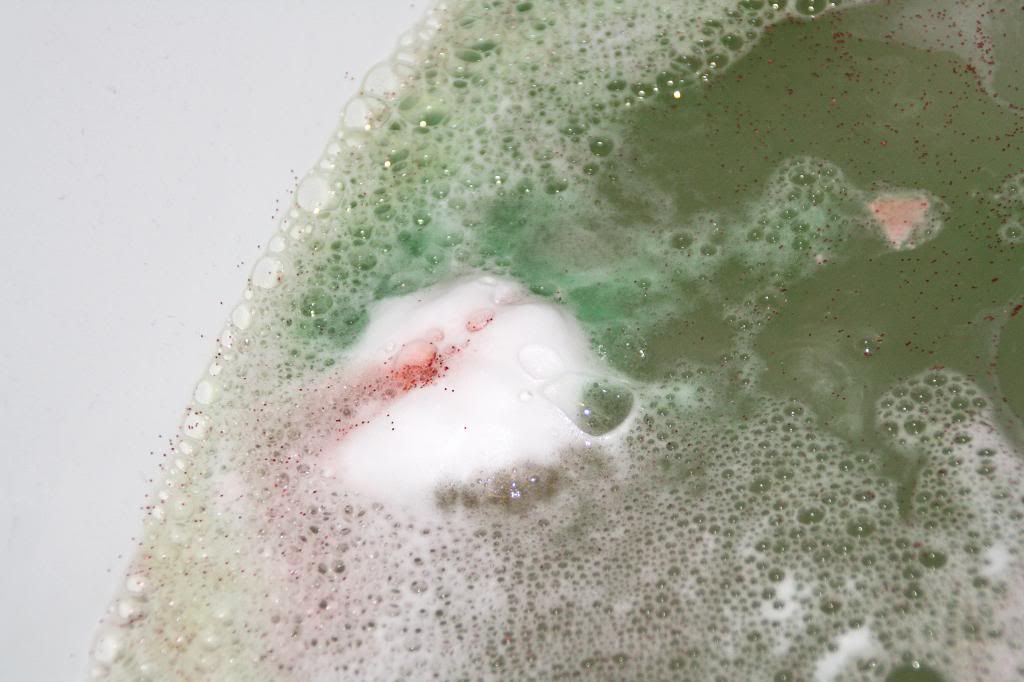 Then he starts to reveal his green interior - and yes, those are big bits of red glitter you see in there.
Getting greener.
And this is the end result: Bright green bath water with white foam and lots and lots of red glitter on top.
And oh my, is it glittery. There was glitter all over my body, glitter all over the bath tub, glitter in unspeakable places! As I treated myself to this bath on Christmas Eve Eve I didn't mind being a bit of a disco ball over the holidays, but I'm not sure I'd want to turn up to work like this. The glitter stayed on for days, despite several showers!
As for the scent, I'd describe it as "eating sherbet in the forest". Very sweet and candy like, but with a little bit of woodiness to it, sort of pine tree like. The Lush website only mentions that this contains mandarin oil, so I guess that's where I'm getting the sherbet notes from.
I did enjoy my nice relaxing bath very much and emerged smelling lovely. I think due to the overload of glitter I'll give this one a miss next year, though!
Did you get yourself any seasonal Lush goodies?