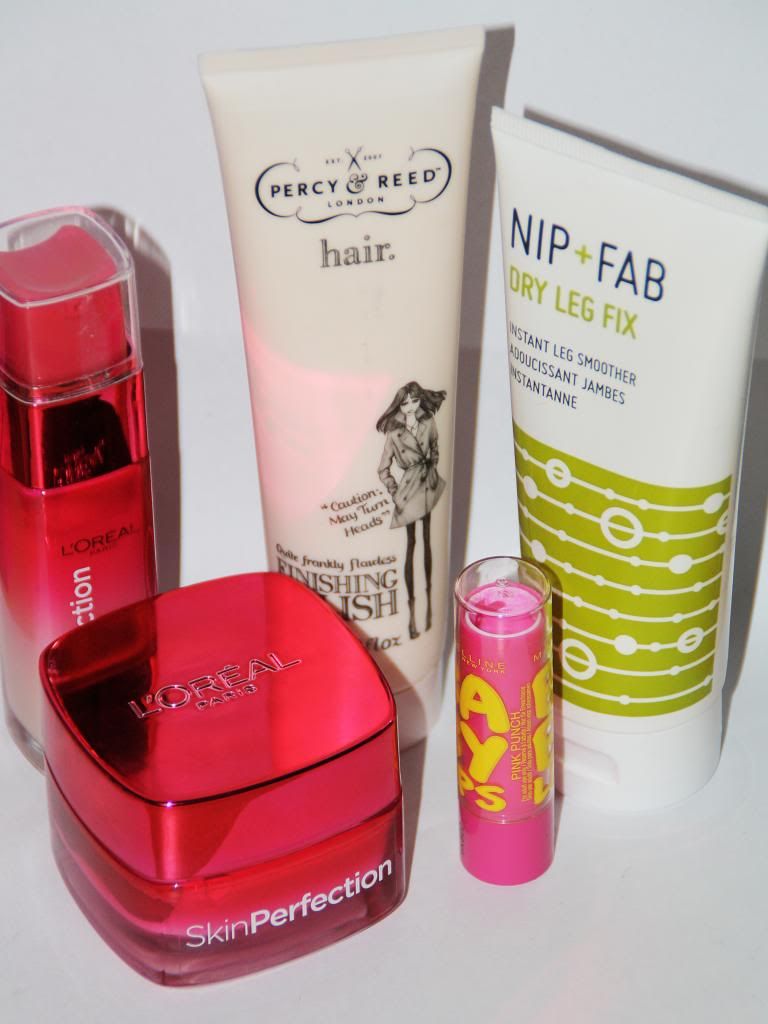 1) L'Oreal SkinPerfection Serum and Moisturiser
I'm writing this post on yet another make-up free day - granted I'm not working today, but I've been out and about without feeling the slightest bit self-conscious about not wearing any foundation or bb cream. You can find my full review of these products
here
, so I won't be waffling on too long about these, but there's something about them that my skin just really loves. They hydrate without being sticky or greasy and just leave my skin in nice, peachy condition. I've actually got quite a bit of other skincare to try, but I'm scared of putting these away just in case my skin stops looking the way it does at the moment.
2) Percy and Reed Finishing Polish
I got this as a freebie with a magazine months ago and it's just been sitting in my drawer for ages. Now that I've started using it, however, I just can't get enough of this stuff! My hair is really dry and quite coarse, so after blow-drying and even after straightening I still get quite a bit of frizz and random strands of hair that just stick up. This stuff is perfect for smoothing my hair into a glossy mane where products like oil or wax would be too heavy. And a little goes a long way, so this tube is going to last me forever!
3) Nip+Fab Dry Leg Fix
When I received this in my last Love Me Beauty box I mentioned that I had quite a problem with stupidly dry skin just on my legs and nowhere else on the body - up to a point where the skin got itchy and flaky and I couldn't stop scratching it! I was a tad sceptical at first, but this stuff has really worked miracles on my legs. They're now back to being smooth and flake and bump free. As odd as it seems to have a special cream just for your legs, my regular oils and moisturisers have completely failed in that area, while this has given me some much needed relief.
4) Maybelline Baby Lips in Pink Punch
After these were sold out in practically every drugstore I ever went to, I finally managed to jump on the Baby Lips bandwagon! This is an absolute joy to apply, it's such a buttery soft balm that instantly softens the lips and this shade in particular leaves a gorgeous hint of pink on the lips that looks incredibly flattering. I can now see how these can get pretty addictive!