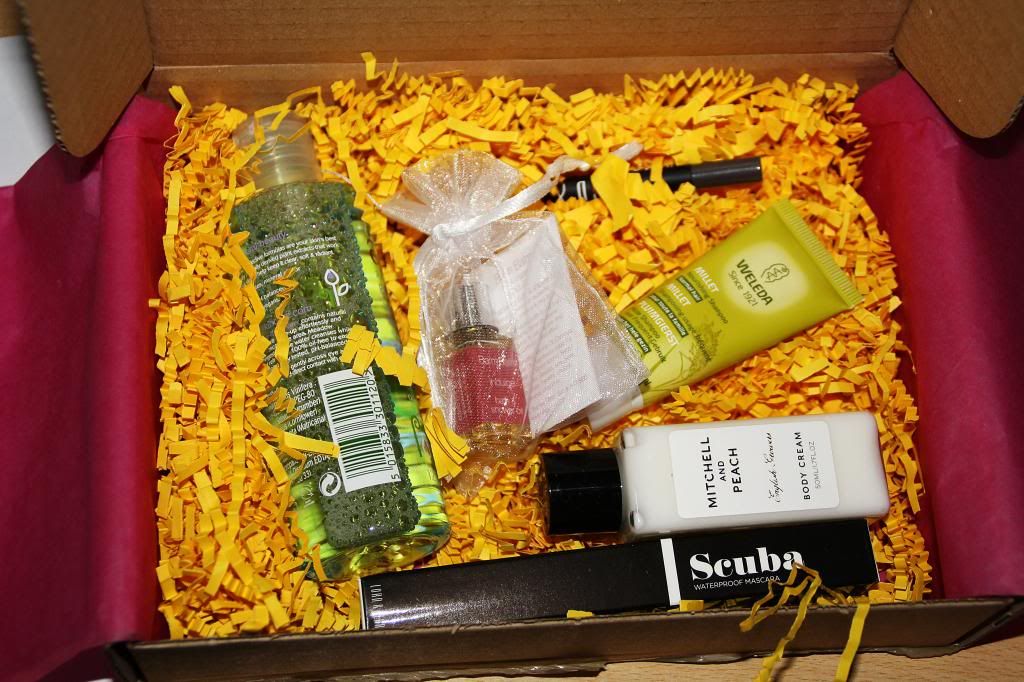 This month's post on my Love Me Beauty Box (formerly known as Beauteco) is a tad late due to the fact that we've not had any internet at home for a while - the cause was two naughty puppies destroying the router, thanks for that, dogs! But on the plus side that means that I've had a chance to try every single one of the products I've received and can give you a little mini review along with a description of each item.
1) Lord and Berry | Smudge Proof Eyeliner
Full size: £7.50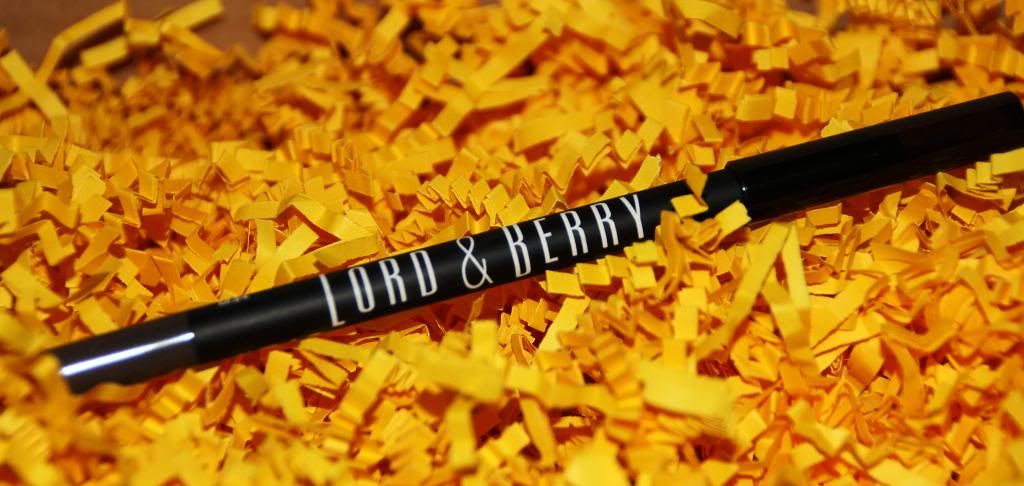 To be honest with you I wasn't overly excited to get another two Lord & Berry products in this month's box, seeing as there had already been two lip products from them two months back which I've probably used twice and then given up on. To be fair that wasn't Lord & Berry's fault; it was just because the colours didn't suit me one bit.
The eye liner that came in this month's box was in the colour "Smoke", which unlike the lip products was a brilliant choice in my opinion. I've got more than enough black eye liners to last me a lifetime, but this is a very pretty off-grey with slight green undertones, which makes a nice alternative to a traditional smokey eye. When I opened my pencil, however, I found this:
For some reason the nib had sunk into the pencil!? But never mind, it was nothing a few quick twists in the sharpener couldn't fix. Unfortunately, however, the dodginess didn't end there. As much as I adore the colour, I found the pencil to be way too hard, which means that it pulls a lot on my eye lids, making smooth and even application almost impossible. And you can forget about using it on the waterline, unless you really insist on poking your eye out with a sharp object.
2) Lord & Berry | Scuba Mascara
Full size: £12
On to the second Lord & Berry product: The waterproof Scuba mascara. Upon first inspection I was sure that I'd quite like this product. The brush is densely packed with bristles and it seemed to be nice and pigmented in the tube.
Unfortunately that doesn't translate at all to the lashes. For a start, the texture is way too dry - I'm not sure if my tube was simply gone off or if that's just how it comes every time, but it just wouldn't do anything to my lashes. Today I gave it some elbow grease and after five coats (yes, FIVE), I finally managed to get some pigment on my lashes - which resulted in flaking about three hours later and a lot of tears trying to get it off in the evening.
Now, I've got to add to this, that I received an email this morning from Love Me Beauty and Lord & Berry apologising about the poor quality of these two products. It seems that I wasn't the only one left thoroughly unimpressed and apparently this is not representative of Lord & Berry as a brand, so they're adding a lipstick to next month's box as compensation. While that's a nice gesture, this mascara is nevertheless going straight in the bin and I won't be happy if I see any more of their stuff in my beauty box.
3) Balm Balm | Indulge Bath & Shower
Full size: £6 for 5ml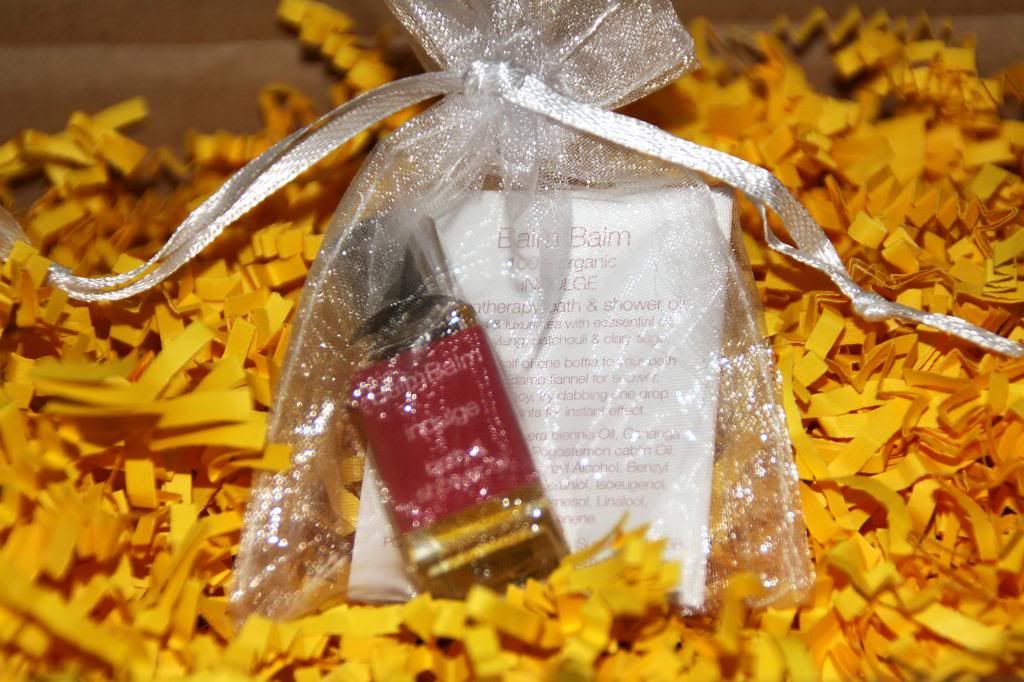 This month's box featured three different scent options of this bath and shower oil and with the one I chose (Menu 3), came the "indulgent" variety. I would definitely say this is a strong, slightly spicy and very rich scent and throughout using it I couldn't really make up my mind about whether or not I like it. The little bottle lasted for three applications, which makes the £6 price tag a tad steep in my opinion. Maybe I've just been using too much, though, who knows? As I tend not to take baths anymore, I used this in the shower, but on its own it just didn't seem to clean my skin at all, so I ended up mixing it with my regular shower gel.
And oh my, this is scented heavily. I did not only emerge out of the shower smelling of this oil, without any lotion or even perfume standing the slightest chance in overpowering the scent - it actually left the whole flat smelling like "Indulge" all day long! Maybe I really have been using too much of this.... Nevertheless, now that it's gone I wouldn't say it's anything I'd consider repurchasing.
4) Weleda | Millet Nourishing Shampoo
Full size: £8.95 for 190ml / Sample value: £0.85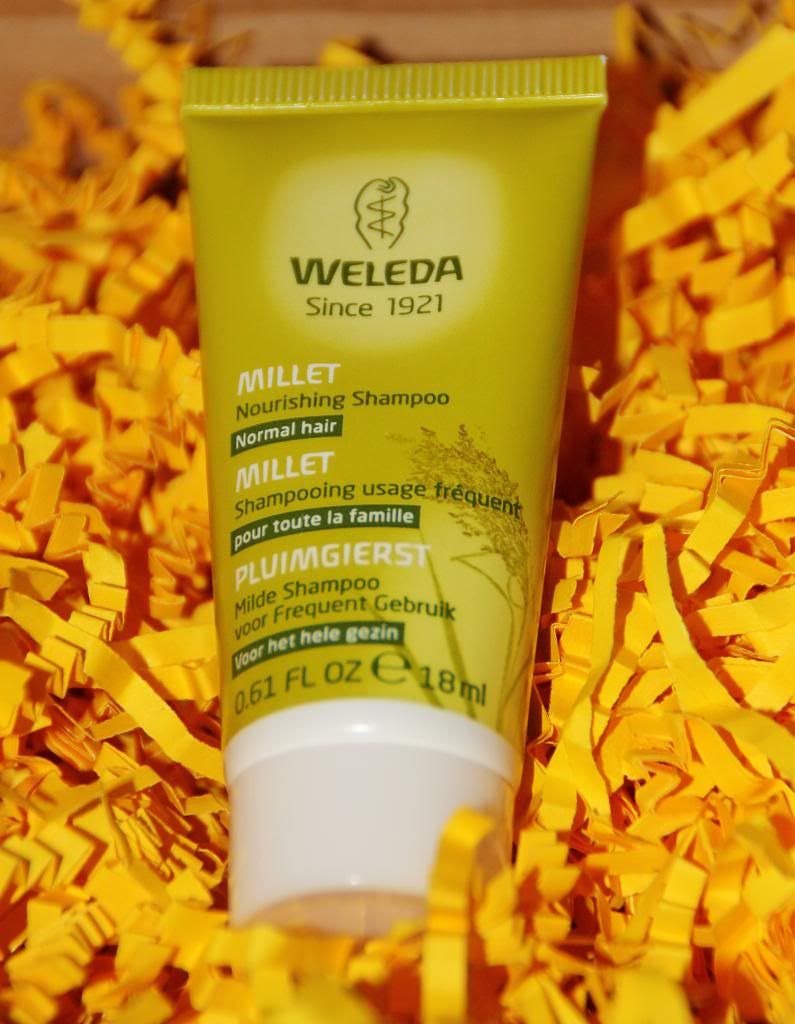 I haven't had a chance to sample too many Weleda products yet, so I was quite happy to see this brand featured in this month's box. This shampoo smells absolutely divine - it's got a fresh and citrussy scent but without that hint of detergent that you can get in a lot of citrus scented beauty products.
Unfortunately, this was another dud for me. There was practically no lather when I used this on my hair and while I accept that this is common amongst "natural" shampoos that aren't full of SLS, it's still something that bothered me quite a bit. Even worse was the fact that it just didn't get my hair clean at all. I actually had an urge to apply dry shampoo straight after blow drying my hair, that's how heavy and greasy it felt.
5) Amie Skincare | Bright Eyes
Full size: £4.95 for 125ml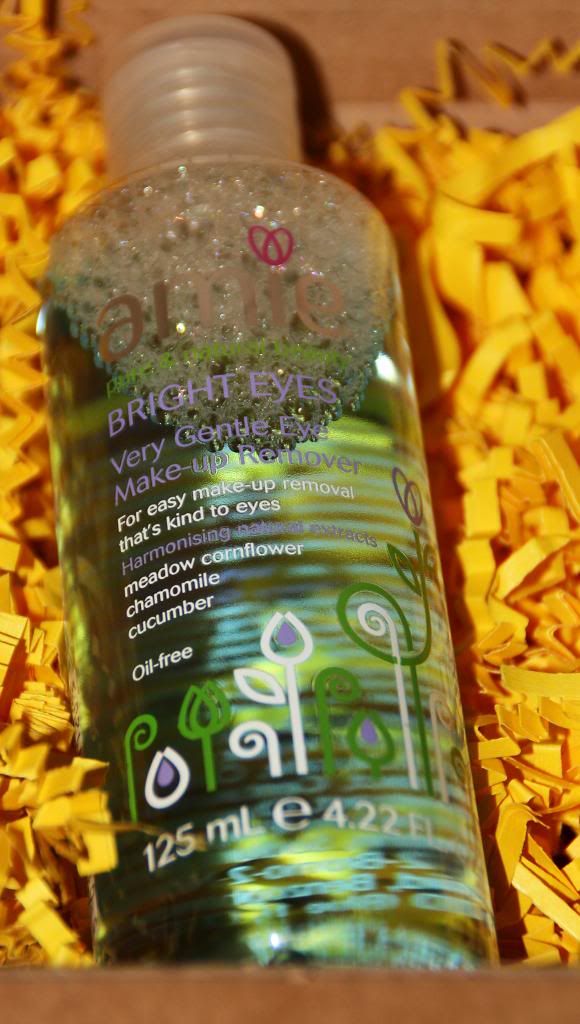 This is the only product that offered any real choice this month, as you could choose between this, a moisturiser or two packs of face mask. I decided to go with the make-up remover, as I was running low and didn't really fancy any of the other products. It might not be an overly exciting product, but it's been doing a good job at removing my make-up without irritating my eyes or leaving a sticky film on them. As it's oil free however, it will barely scratch the surface of waterproof make-up (such as the scuba mascara that came in the same box), so you'd need a separate product for that. Even though Amie has been featured in a previous box I don't mind seeing them again as I really love the face scrub that I received in an earlier box.
6) Mitchell and Peach | Body Cream
Full size: £36 for 180ml / Sample value: £10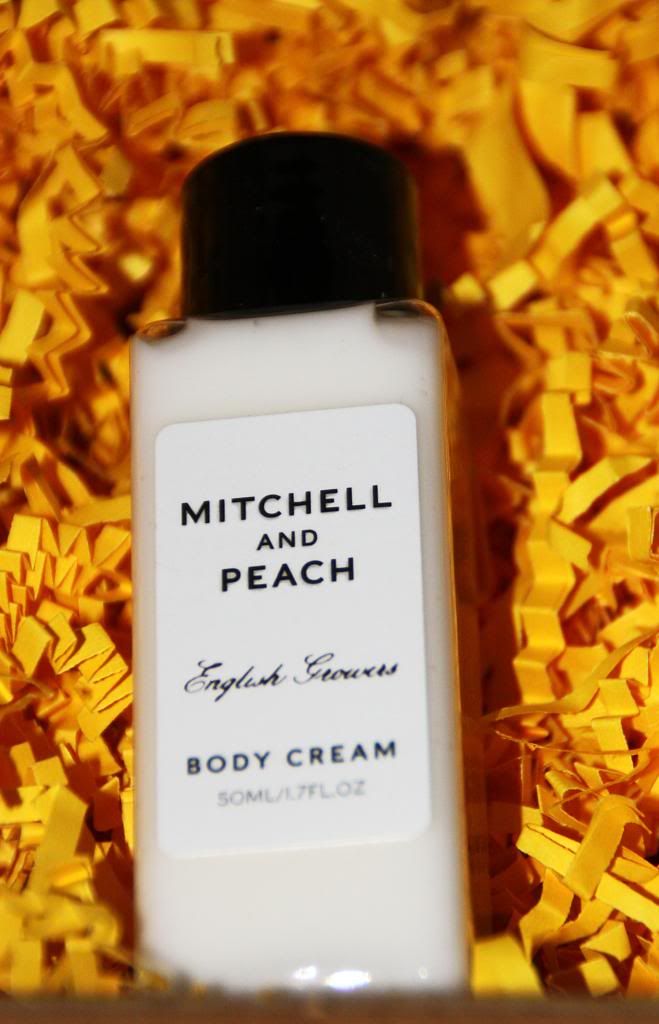 I got an extra product in this month's box which isn't mentioned anywhere on the menu, so I'm assuming that this is part of Love Me Beauty's special offer that gets you a bonus product for every three months you've been subscribed. A great idea in my opinion! Who doesn't love a little extra surprise thrown in? The cream smells has a lovely and quite sophisticated floral, slightly woody scent. Unlike most body lotions that I always complain about it's not too thin and moisturises my skin very well. A huge thumbs down however for whoever designed the packaging of this sample - it doesn't squeeze and the cream is too thick to just run out of the top, so I can see at least half of this lovely sample going to waste just because there's no way for me to get it out. What a shame!
Total value: £31.30 (£41.30 with bonus sample)
Sadly, I have to say that this month's box was my least favourite out of all of the ones I've received. This is partly down to three products being repeat brands and partly down to four the items turning out to be complete duds for me. Getting four full sized products is still really amazing for any beauty box company and I've really enjoyed my little bonus sample this month. Maybe it's just that I've gotten so used to Love Me Beauty / Beauteco supplying me with products that I absolutely adore month after month - after all most of my last monthly favourites posts lately have featured at least one item from each box! You can't always be on to a winner, so I'm still happy with Love Me Beauty as a concept and I'm looking forward to hopefully discovering some new gems in next month's box. But please, pretty pretty please, no more Lord & Berry products!