1) Clinique Repairwear Laser Focus Foundation (Shade 03)
Full size: £27.50 for 30ml
I'm used to foundation samples you get in magazines not fitting my skin tone, but this one looked ridiculously out of place. (Apologies, I did take a swatch picture, but unfortunately the file became corrupted) With Clinique, the problem isn't just the colour of this sachet. I tried several times to buy a Clinique foundation, but none of their shades ever fit my light skin. Not only are they bright orange on application, they also have a tendency to oxidise during the day and become even darker and more unnatural-looking.
Nevermind, I picked a day where I knew I wouldn't be leaving the house and covered myself in this orange goo, making sure to take it all the way down to my chest. The coverage is quite heavy with strong pigmentation, which made it a right pain to blend. You'd have to find a shade that exactly matches your skin tone in order to avoid this problem. It's a shame then, that this turned out to be an excellent foundation. It felt incredibly lightweight on the skin considering the high level of coverage it gave and stayed put all day without transferring onto my clothes. It evened out my skin tone without completely hiding my skin's structure and even the oxidisation problem I mentioned earlier wasn't so bad. But it was still orange. If only Clinique could sort out their shade selection, this would be my new go-to high coverage foundation.
2) Biotherm Blue Therapy Serum
Full size: £38.00 for 30ml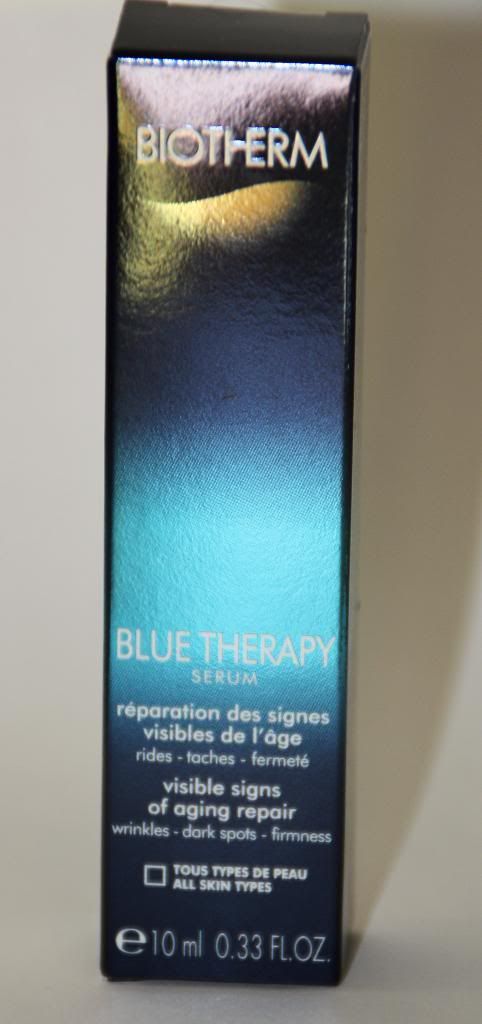 I will admit right from the outset that I am a big Biotherm fan. Their products have never let me down in that they just always work with my skin and tend to get the very best out of it.
So it was with quite a bit of excitement that I tried this new serum which can be applied day and night. However, what came out of the tube did cause a short moment of panic. This is a sparkle serum. Yes, that's right. It sparkles. And glitters. It reminded me of those glitter gels you used to get as a child to cover your skin and hair with for fancy dress occasions - anyone else remember them?
Thank goodness the obvious shimmer somehow completely disappeared on my skin and did not turn me into an extra from Twilight. As far as application goes it's definitely in line with some of the nicer serums I've tried. Lightweight, but nourishing, it sinks in quickly and doesn't leave my skin sticky in the slightest.
It was after the second or third application that I began to notice a different on my face. I'm sorry if this sounds ridiculous, but my skin felt somehow... bouncier? I really wish I had a better way of explaining this, because it's not like my skin was sallow and wrinkly before, but in a way it became plumper, tauter and more resistant to whatever it is I throw at it. I imagine this would make it absolutely brilliant for more mature skin, but even as it stands now, I'll be quite gutted once my sample runs out!
3) Armani Code Pour Femme Shower Gel
Full size: £29.50 for 200ml
As far as things that come with perfume go, I much prefer shower gels to the disgraceful body lotions I've complained about many a time. Granted, the scent ain't going to last a long time on the skin either way, but at least it can make for an uplifting and, dare I say it, sensual experience under the shower.
Unfortunately, this wasn't my scent at all. It's really rather woody and musky which is far from my personal preference when it comes to fragrance, but it lathered up nicely, a little went a long way and it did get me clean in the end. Even if you're a fan of the scent I would still consider this a massive waste of money. Actually, charging almost £30 for a tube of shower gel that does absolutely nothing differently than a product you'd get from Poundland makes me rather angry. It's a nice add on if it comes for free in a gift set, but on its own there's just nothing about it that would justify the price tag.
4) Just Cavalli Perfumed Shower Gel
Full size: £20.00 for 150ml
Another perfumed bath thingy... seems like I literally get showered in the stuff (geddit? Showered! Fnar fnar fnar...). This is one I really, really like. Unfortunately, my already very sparse scent describing skills completely fail me when it comes to this one. It just seems like a very young scent, something that makes me want to go out and have fun. It's sweet, but not overly so and it layers beautifully with my Soap and Glory body butter, creating a delicious, comforting yet at the same time energising scent.
Several hints have been dropped to the boyfriend about how much I like the scent and how I just got through another one of my perfumes...
Again, on its own I find the price tag completely unjustifiable, but if I got a tube of this in a gift set I'd be more than happy to use it up.