For ages I've bypassed the MUA stand at my local Superdrug despite all the blogger hype surrounding the brand. I apologise in advance if I sound like a snob, but I just couldn't believe that make-up costing a Pound or two could possibly any good (really, really bad teenage make-up memories come flooding back in). Eventually I took the plunge and purchased a few items and among them was this felt tip eyeliner, which cost me £1. Yes, that's right. One single pound.
First impressions were actually pretty good. The packaging is sturdy but light. The cap sits firmly on the tip of the eyeliner, so you don't have to worry about it flying off in your make-up bag and everything getting covered in black gunk. I'm also quite fond of the silver writing on black plastic; it looks a lot more expensive than you would expect.
Felt tip style liners are probably my favourite eyeliner type. They're a lot easier to apply than liquid or gel liner and a lot more precise and longer lasting than pencils or khols. The tip on this liner is absolutely perfect. It's the perfect length to allow for a very precise application. Soft enough not to tug on the eyelids, but hard enough not to smudge or run, it's pretty easy to get the exact line and shape you want from it. It's literally like holding a pen and colouring in your make-up.
As you can see from the swatch picture, the pigment isn't quite as black as it could be, so I found myself applying a few layers to get better pigmentation, as I do like my eyeliners to be "proper black".
On the plus side, once this is on the skin it stays on. I found myself wearing this on 16-hour work days and when I struggled into the bathroom at the end of the day it was still there, exactly the same way it had been at the start of my day. Due to the longevity it does take a bit of work to remove, but nothing a good make-up remover cannot handle.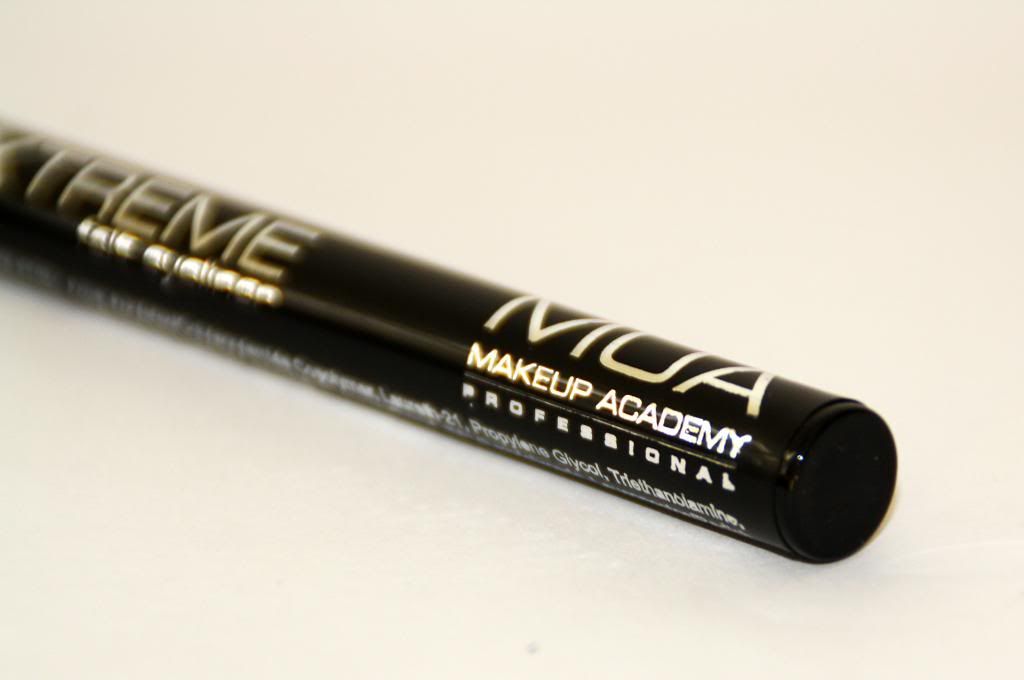 The only other downside? After about three weeks of almost continuous use, the Extreme Felt Eyeliner decided it had enough and dried out completely on me. But for £1 it's not like you can't afford to buy another. So, short life span aside, I am really, really impressed with this product. I honestly cannot believe that you could get something this good for a single pound, when I'm used to paying at least ten times the amount MUA charge for most of their make-up.
I've since gone back and purchased a few more of their items and it's starting to develop into a full blown addiction now.
What's your favourite bargain product?