One thing I really love about pre-Christmas shopping is all the beauty kits available to buy. Granted, there are a few duds out there with products shops are desperate to shift - shockingly overpriced just for a bit of fancy packaging. But there are also loads of really great sets to get your mitts on with huge savings to be made. And in my books the only thing better than a great beauty product for Christmas is several great beauty products to play around with.
This year, Murad have launched several skincare kits which are perfect for gifting (and you've still got time to dash to your nearest department store for any last-minute emergency purchases).
Kindly enough, the people at Murad sent me the Rescue Radiance kit
*
to sample at home a fair while ago. The reason I only write about it now is because the products in there performed very differently and it took me a while to figure out which one was doing what to my skin.
This kit consists of:
Active Radiance Serum, 30ml
Complete Reform, 3.7ml
Hydro-Dynamic Ultimate Moisture, 7.5ml
Essential-C Eye Cream SPF 15 | PA++, 4ml
And for me, there was a product I liked, one I loved, one I felt fairly indifferent about and one I have a sort of love/hate attitude towards.
Packaging-wise the kit isn't too over the top and kept rather simple, but in my opinion that goes quite well with the brand ethos. The set is aimed to give skin a bright and radiant glow.
Now, on to the actual products. Let's start with the one I liked.
Hydro-Dynamic Ultimate Moisture is a daily moisturiser, which is meant to keep skin intensely hydrated and plumped. Despite its richness, the cream sinks in quickly and feels incredibly light on the skin.
For my fairly normal skin it delivered the perfect hit of moisture, without at all weighing it down. It wasn't sticky or greasy but kept my face wonderfully moisturised. If it had an added SPF I would go as far as saying it's perfect. Nonetheless, it's a fantastic product I would more than happily recommend.
Now, on to the one I love. The Essential-C Eye Cream does feature an in-built SPF and again it feels insanely light-weight on the skin while providing it with a delicious hit of moisture.
What ultimately makes this a winner in my book, however, is that it is the second eye cream I have ever tried that really made a difference to my dark undereye circles (the other one is All About Eyes by Clinique). Nothing overly dramatic - the only thing that permanently rids me of them is plenty of sleep, water and a thick concealer - but it does make them less noticeable and made me instantly look a lot more alive than I felt in the mornings.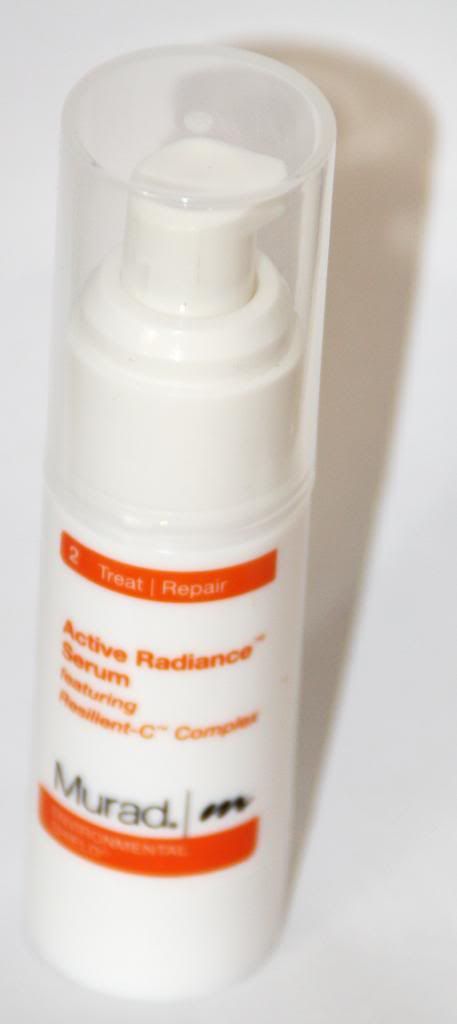 Next up, a product I'm not really sure about. The great thing about the Active Radiance Serum is that you get a whopping 30ml of product which will seriously last for ages. The texture is again quite light, but it doesn't sink into the skin as quickly as the moisturiser does.
Murad claim on their website that this will improve skin firmness by up to 63% in 15 minutes and unfortunately my own experience doesn't confirm that. To be fair my skin's still holding up well as I'm only 23, so perhaps more mature skin would experience a stronger effect.
For quite a while I was convinced that this serum was breaking me out, but that turned out to be wrong when I started shuffling products around. What I did find, however, was that it had virtually no effect on my skin whatsoever, neither positive nor negative. Again, maybe mature skin would benefit more from this, but for me this serum is more of a take-it-or-leave-it product.
Ah, now to the arguably most interesting product of them all. Complete Reform is as far as I understand a cross between a serum and a glycolic peel. I've heard a lot of people rave about the effects of glycolic acid in skincare, so I was very intrigued by this little tube.
As the packaging suggests you don't need to use an awful lot of this at a time - a little goes a long way. The consistency is quite similar to the serum, but it sinks into the skin almost as soon as it touches it, so there's no residue what so ever.
The first time I used it I was amazed. I don't even know where to begin telling you what a huge impact it made on my skin. It was soft and silky as a peach, bright, radiant... I swear it was almost as if my face was glowing. Then little red lumps started appearing on my skin. And from then onwards, those little red lumps got angrier and redder and more painful with every application. I took a break and they took almost two weeks to clear up. As soon as I began using Complete Reform again, they came back. "Gutted" doesn't even begin to describe how I feel. It's a fantastic product, but my skin just cannot handle it - and my skin is anything but sensitive!
So, the verdict in conclusion? I wasn't too keen on Murad after I received one of their products in a Glossybox (and, quite frankly, hated it!), but this kit made me reconsider a little bit. There are some gems in their repertoire and the eye cream is definitely a re-purchase. I'd buy the moisturiser too, but it's slightly out of my price league at the moment. I think the thing with all the products I've tried is that they are just very, very powerful and not everybody's skin is going to agree with them.
If you're interested, they're definitely worth giving a go. I'd recommend asking for a little sample at a counter, just to make sure your skin doesn't react to a product before purchasing. Murad have actually launched a Youth Cam at one of their House of Fraser counters, which gives an in-depth analysis of your skin, so it's definitely worth checking out!
The Reveal Radiance kit retails at £58.50, but contains products worth £137.31, so there's some big savings to be had!
*PR sample sent for consideration