It's so difficult to walk past a MUA stand without picking up little bits here and there. I was fine until I bought my first MUA item and ever since it's become difficult to stop. It's a bit of an addiction now and my boyfriend has threatened to put me on a leash if I run off one more time to buy handfuls of make-up whenever he looks away. Whoops!
One of my first items by MUA was their felt tip liner and even though it ran dry quite quickly, I was thoroughly impressed by the quality of the product - all for a single pound! Being a typical beauty blogger, however, I couldn't just go back and buy the same when the old one ran out. I had to try something different, so I decided to give the liquid liner a go this time around.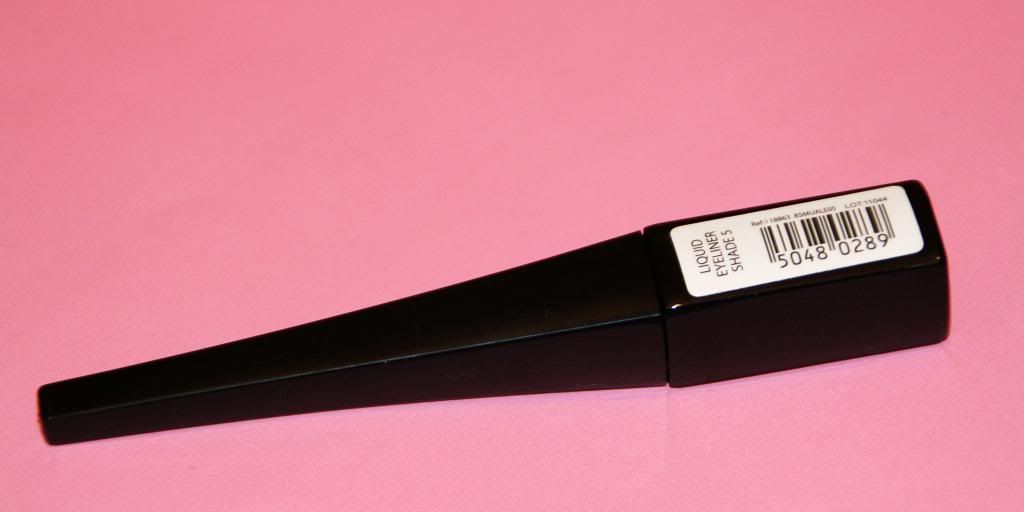 Once again, the packaging cannot be faulted. It's not as glamorous as anything high end, of course, but for the price you could do a lot worse. It's sturdy, sleek and doesn't break or cause any spillages if you want to chuck it into your handbag and not worry about it for the rest of the day.
The brush is also a good length and width, meaning it's not too floppy and allows you to draw a precise line, which you can make as thick or as thin as you want. Unfortunately, applying liquid eyeliner is just a lot more difficult than applying a felt tip one, no matter what brand you use. The only tip I can give you if you struggle is practise, practise, practise. I still struggle to get a clean, perfect line, but I get better with each application.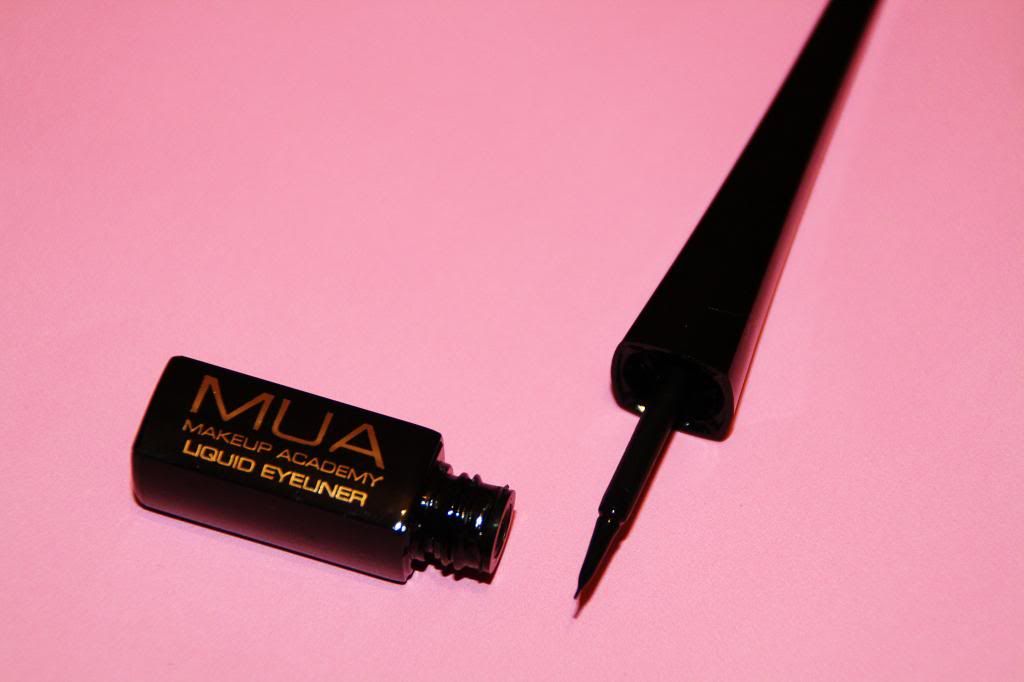 I went for shade 5, which is a classic, non-fuss black. There are also some other shades, including other neutrals like brown and grey, and some more interesting shades, such as a bright emerald and a turquoise blue.
The black itself is gorgeously inky, deep and glossy. As it dries it gives a sort of vinyl-like effect which looks stunning while it's still fresh.
MUA Liquid Eyeliner Swatch - Shade 5
Where this product falters, however, is in its longevity. It's virtually impossible to draw on a thick, dramatic line, as it will crack and flake pretty much instantly, so you've got to stick to a thin, understated line with this one. More of a "thick lashes" effect than a full on 60's cat eye flick. Even then it will start crumbling after a few hours' wear. I tried using primer as well as setting the liner with some eye shadow, but neither seemed to make a difference.
I don't know if the other shades behave in a similar fashion, but I would say if you're after a brilliant eye liner, try the felt tip liner instead. It only costs £1 more, but it will stay on your eyes all day - literally.
Also, if you've got any tips on how to stop this one from cracking, then please let me know in the comments section below!
The MUA liquid eyeliner retails at £1 and is available from Superdrug or online on the MUA website,
here
. Meanwhile, if you'd like to check out what I've had to say about the felt tip eyeliner, you can read
this blog post
.