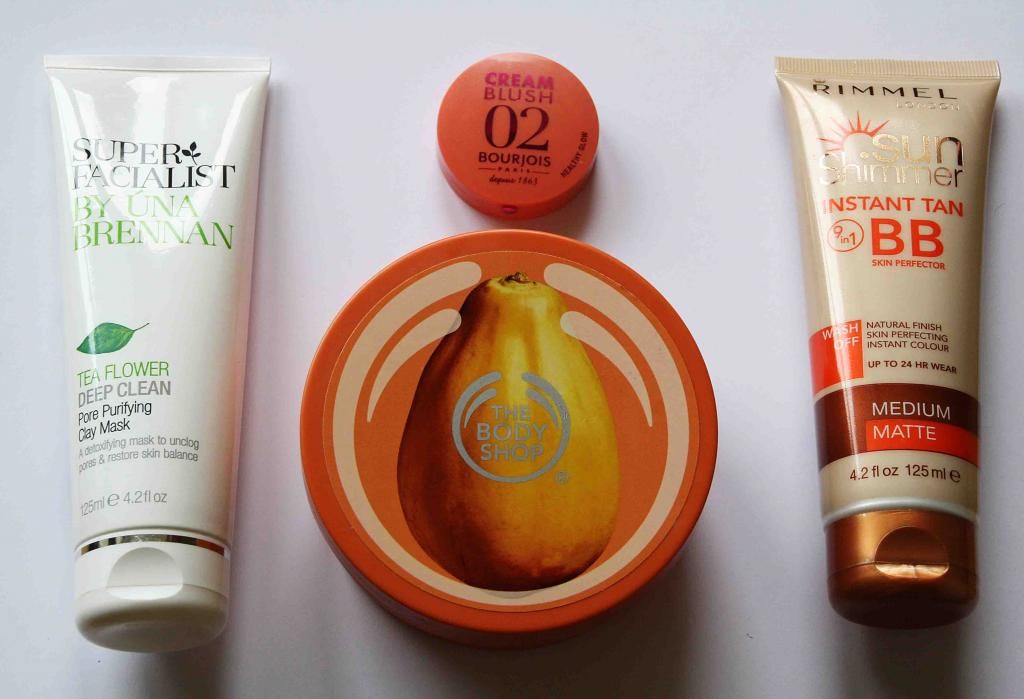 1) Super Facialist by Una Brennan Tea Flower Deep Clean Pore Purifying Clay Mask
Wow, what a mouthful.... The interesting thing about this mask is that I didn't really get on with it at first. After using it for the first time I woke up the next morning with the biggest. spot. ever. The really painful kind that takes half a ton of concealer to make it look slightly less angry. I almost decided to pass up on the mask afterwards, but somehow I persevered and now I absolutely love it. I guess it's just kind of proof that it really does draw out impurities and now after using it regularly once a week it's keeping my skin clean, but still nicely moisturised. I don't want to be without it anymore!
2) Bourjois Cream Blush in 02 Healthy Glow
I already have this in another shade, but this one is a very welcome addition to my collection. It's a peachy apricot shade which might look a tad orange against my normally pale skin, but in the summer it just adds the most beautiful natural glow to tanned skin. The formula is absolutely amazing and blends out to look insanely natural and also lasts pretty much all day. All I need to do now is get my hands on the remaining two shades, as well as the two new cream bronzers!
3) The Body Shop Papaya Body Butter
There used to be a time where I wouldn't use any other lotion or butter on my body apart from various Body Shop variations. Then I got bored and it turns out I hadn't bought another one for years! What else can I say other than: It's good to have it back. I love the way the smooth, buttery texture allows it to just sink straight into my skin and leave it soft and hydrated. Not to mention the smell is amazing and lasts for ages as well. Maybe not so great if you don't want your lotions to clash with your perfume, but personally, I'm quite happy to smell of delicious papayas all day.
4) Rimmel Instant Tan BB Skin Perfector
Never in a million years did I think my favourites would ever feature a fake tan - it might be an odd thing to say as a beauty blogger, but I'm absolutely terrified of false tan! Then I got this in my Glamour Latest In Beauty box and thought that as it's a wash-off tan, I might as well give it a go. Turns out it's an absolute breeze to use, doesn't leave skin at all patchy and offers a very natural result that doesn't look orange at all. It's the perfect little pick me up on days where I want to wear skirts or shorts and my legs are just a bit too pasty. A great product for every tan-o-phobe like me out there.